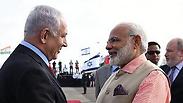 PM Netanyahu with President Modi
Prime Minister Benjamin Netanyahu will take 130 businessmen with him to India next week for trade talks which will also cover defense sales, a senior Israeli official said Wednesday.

Foreign ministry deputy director general for Asia, Gilad Cohen, said the six-day trip starting Sunday was meant to further deepen political, trade and cultural ties.

India's defense ministry announced last week that it would buy 131 surface-to-air missiles from Israel.


The Barak missiles made by Rafael Advanced Defense Systems are to be used for India's first aircraft carrier which is under construction.

But at the same time, Rafael said India had cancelled a separate $500-million deal to purchase Spike anti-tank guided missiles.

"Rafael has received an official statement from the Indian ministry of defense on the cancellation of the Spike missile deal," the company told the Jerusalem Post newspaper last week.

The Post said Rafael executives would be in the trade delegation accompanying Netanyahu.

Cohen declined to answer questions on the subject in his briefing to journalists in Jerusalem on Wednesday.

"The prime minister will be talking (to his hosts) on the whole range of issues which make up relations between Israel and India: water, agriculture, energy, culture, innovation, also defense," he said.

"I do not want to elaborate on defense issues."

On Wednesday, Netanyahu spoke at a press conference about his planned trip and commented on the fact that India voted against recognizing Jerusalem as the capital of Israel at the UN General Assembly, and the recently cancelled $500-million deal.

"I would have genuinely preferred another vote, but it did not affect the flourishing relations between our two countries. Everyone can see it," he said.

"We will see an expansion of economic and other ties, regardless of any deal. In time we will see a reflection of this in India's votes in international forums."

Israel is a major weapons supplier to India, selling it an average of $1 billion of military equipment each year.

In April last year the two countries signed a military deal worth nearly $2 billion which includes the supply over several years of medium-range surface-to-air missiles, launchers and communications technology.

Netanyahu's India trip comes after Indian Prime Minister Narendra Modi's visit to Israel in July, the first ever by an Indian premier.

A media highlight of that visit was a barefoot stroll though the surf together at an Israeli beach, where Modi got a demonstration of a mobile water desalination unit mounted on a dune buggy.

Cohen said Netanyahu would present one to Modi during his visit next week.
Hooray for Bollywood
One of Netanyahu's stops on the trip, the first by an Israeli premier since Ariel Sharon in 2003, will be in Mumbai where he will meet on January 18 with stars and executives of India's mammoth film industry.

Bollywood "mega-celebs wield tremendous influence around the world," Cohen said.

Israel wants the Indian movie industry to shoot a film in the Jewish state, he added.

"You can imagine the effect that would have on our tourism, on Israel's exposure."

The visit begins in New Delhi where Netanyahu will have dinner with Modi and meet Foreign Minister Sushma Swaraj.

The following day he will call on President Ram Nath Kovind then have more talks with Modi.

On Tuesday, Netanyahu will visit the Taj Mahal and then attend India's annual "Raisina Dialogue" geo-political conference.

January 17 sees him joining Modi on a visit to the Indian leader's home state of Gujarat.

"It's no secret that the two leaders enjoy very clear chemistry, good and intimate relations," Cohen said.

In addition to the Bollywood event, January 18 sees Netanyahu hosting a business seminar then attending a memorial ceremony for Jewish victims of the 2008 Mumbai attacks.

In one of several incidents, Islamic militants stormed a Jewish hostel and cultural centre in the city, killing a rabbi and his pregnant wife and four others.

They were among at least 195 dead and 295 wounded in a 60-hour siege of multiple targets, including luxury hotels and a railway station.