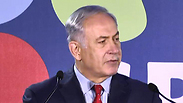 PM Netanyahu
Photo: Gil Yohanan
Netanyahu: 'Only a matter of time' before drive-by terrorists caught
Addressing journalists in Jerusalem at a New Year's reception, Netanyahu congratulates US Ambassador to Israel David Friedman for tweeting 'the truth, unvarnished, straight forward' about why there is no peace; says despite Indian Jerusalem vote, 'flourishing relations' won't be compromised.
Prime Minister Benjamin Netanyahu said Wednesday evening that "it is only a matter of time" before Israeli security forces lay their hands on the terrorists responsible for Tuesday's murder of Rabbi Raziel Shevah during a drive-by shooting near the outpost Havat Gilad.

"I spoke with the head of the Shin Bet. He updated me regarding the rigorous investigation that is being conducted on the murderous terror attack yesterday. I have no doubt that it is a matter of time before we get to the murderers and I hope that it isn't a lot of time. We are committed to this," Netanyahu said during a press conference at a New Year's reception in Jerusalem.

"I want to congratulate US Ambassador Friedman, who tweeted the truth, unvarnished, straight forward. He said some important things: Abbas's government is supporting murderers who murdered the father of 6," Netanyahu said.


"People like this who sit in prison receive 350 million dollars each year. This is unacceptable."

Netanyahu's comments were made in reference to a tweet uploaded by Friedman in response to the deadly attack.

"An Israeli father of six was killed last night in cold blood by Palestinian terrorists. Hamas praises the killers and PA laws will provide them financial rewards. Look no further to why there is no peace," Friedman wrote on his Twitter account.

Netanyahu then touched upon the subject of American threats to cut funds to the UN agency that provides aid to Palestinian refugees—the UN Relief and Works Agency (UNRWA).

Seeking to reassure sceptics, Netanyahu insisted that the move "will not bring about the collapse of the Palestinians Authority. The budgets should be put toward agencies that will take care of the real needs of genuine refugees.

"Only Palestinians have a special organization that is supposed to solve the problem, but it only perpetuates it," he argued. "How much longer will UNRWA survive? For 70 years?"

Moving on to his planned trip to India and commenting on the fact that India voted against recognizing Jerusalem as the capital of Israel at the UN General Assembly, and then recently cancelled $500-million deal, Netanyahu admitted that he would have liked to see the country back President Trump's decision, but noted that relations would not be compromised.

"I would have genuinely preferred another vote, but it did not affect the flourishing relations between our two countries. Everyone can see it," he said.

"We will see an expansion of economic and other ties, regardless of any deal. In time we will see a reflection of this in India's votes in international forums."