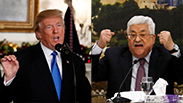 Trump (L) and Abbas
Photo: Reuters, AP
The Trump administration is preparing to withhold tens of millions of dollars from the UN agency for Palestinian refugees, cutting the year's first contribution by more than half or perhaps entirely, and making additional donations contingent on major changes to the organization, according to US officials.

President Donald Trump hasn't made a final decision, but appears more likely to send only $60 million of the planned $125 million first installment to the UN Relief and Works Agency, said the officials, who weren't authorized to publicly discuss the matter and spoke on condition of anonymity.

Future contributions would require the agency, facing heavy Israeli criticism, to demonstrate significant changes in operations, they said, adding that one suggestion under consideration would require the Palestinians to first re-enter peace talks with Israel.

The State Department said Sunday that "the decision is under review. There are still deliberations taking place." The White House did not immediately respond to questions about the matter.

The administration could announce its decision as early as Tuesday, the officials said. The plan to withhold some of the money is backed by Secretary of State Rex Tillerson and Defense Secretary James Mattis, who offered it as a compromise to demands for more drastic measures by UN Ambassador Nikki Haley, the officials said.

Haley wants a complete cutoff in US money until the Palestinians resume peace talks with Israel that have been frozen for years. But Tillerson, Mattis and others say ending all assistance would exacerbate instability in the Mideast, notably in Jordan, a host to hundreds of thousands of Palestinian refugees and a crucial US strategic partner.

The US is the agency's largest donor, supplying nearly 30 percent of its total budget. The agency focuses on providing health care, education and social services to Palestinians in the West Bank, Gaza Strip, Jordan, Syria and Lebanon.

Hundreds of thousands of Palestinians either fled or were forced from their homes during the war that led to Israel's establishment in 1948. Today, there are an estimated 5 million refugees and their descendants, mostly scattered across the region.

Eliminating or sharply reducing the US contribution could hamstring the agency and severely curtail its work, putting great pressure on Jordan and Lebanon as well as the Palestinian Authority. Gaza would be particularly hard hit. Some officials, including Israelis, warn that it might push people closer to the militant Hamas movement, which controls Gaza.

The US officials said any reduction in American assistance could be accompanied by calls for European nations and others to help make up the shortfall.

The US donated $355 million in 2016 and was set to make a similar contribution this year; the first installment was to have sent this month.

But after a highly critical Jan. 2 tweet from Trump on aid to the Palestinians, the State Department opted to wait for a formal policy decision before sending any of the $125 million.

Trump's tweet expressed frustration over the lack of progress in his attempts to broker peace between Israel and the Palestinians, and he pointed the finger at the Palestinians. "We pay the Palestinians HUNDREDS OF MILLIONS OF DOLLARS a year and get no appreciation or respect," he said. "But with the Palestinians no longer willing to talk peace, why should we make any of these massive future payments to them?"
...peace treaty with Israel. We have taken Jerusalem, the toughest part of the negotiation, off the table, but Israel, for that, would have had to pay more. But with the Palestinians no longer willing to talk peace, why should we make any of these massive future payments to them?

— Donald J. Trump (@realDonaldTrump) January 2, 2018
Although Trump referred to all US assistance to the Palestinians, the contribution to refugee agency would be the first to be affected.

Palestinian Authority President Mahmoud Abbas on Sunday attacked Trump over his tweet.

"I see a tweet on Twitter," Abbas said and quoted, "'We will not give the Palestinians money because they refuse to negotiate.'"

Swearing at the president, Abbas said, "May your house come to ruin (an Arabic epithet—ed). Where did you offer that to me? On the phone? On television?"

Three days after the tweet, at a Jan. 5 White House meeting, senior national security officials try to find a way forward. Led by representatives from the State Department and Pentagon, all but one of the members of the "Policy Coordination Committee" agreed to continue the funding, officials said.

The lone holdout was Haley's representative, who insisted that Trump's tweet had set the policy and the money must be cut off, the officials said.

The meeting ended in a stalemate.

Israeli Prime Minister Benjamin Netanyahu then weighed in, telling his Cabinet that he agreed with the critique of the agency. He said the agency only perpetuates problems and should cease operating in the region. Netanyahu and other Israelis accuse it of contributing to Palestinian militancy and allowing its facilities to be used by militants. They have also complained that some of its staff are biased against Israel.

Netanyahu suggested transferring the agency's budget to the UN High Commissioner for Refugees, which aids refugee matters everywhere in the world. It was not immediately clear whether any withheld US assistance would be shifted.

Netanyahu's position, coupled with Haley's firm opposition to the funding, led Tillerson, with the support of Mattis, to propose the $60 million compromise, the officials said.

Trump, who last year upset the Palestinians by recognizing Jerusalem as Israel's capital and announcing plans to move the US Embassy to the holy city, was said by one official to have expressed cautious backing of the compromise.