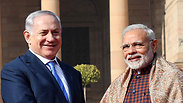 PM Netanyahu and PM Modi
Photo: Avi Ohayon/GPO
Report: Direct India-Israel flights may begin via Saudi Arabia
As Netanyahu continues his six-day trip to India, where he and PM Modi have inked a series of bilateral agreements, idea of enabling Air India to fly over Saudi skies to Israel said to have been floated in effort to slash travel time by two hours, thereby cutting fuel costs and boosting number of annual flights.
A major Indian airline may begin operating direct return flights to Israel which will include a navigation route above Saudi Arabia as part of the further consolidation of diplomatic ties between Jerusalem and New Delhi.

On Monday, Prime Minister Benjamin Netanyahu, who is currently in the midst of a six-day trip to India, extolled the 25 years of diplomatic relations between Israel and India, boasting that the two sides had already signed nine agreements covering cooperation in cyber security, space and oil and gas exploration.

India has been keen to map out speedier flight routes in Saudi skies to reduce the journey duration by around two hours by enabling it to fly west without the need take roundabout routes, thereby slashing costs on fuel and significantly increasing the number of tourists flying between Israel and India.


In addition, the new route would enable the airline to dramatically reduce the price of flight tickets and simultaneously stimulate competition among other airlines.

If Saudi Arabia agrees to the move, it would likely be presented to the Indians as a gesture and not to the Israelis, since Jerusalem has no formal diplomatic ties with Riyadh.

Nevertheless, the change would symbolize another step in the direction of normalization between Israel and the Sunni kingdom, buttressing what are already reported to believe increasingly warm and cooperative, albeit it private, relations.

No rookie to the economic hardships involved in the current flight routes available between New Delhi and Ben Gurion Airport, Air India announced 20 years ago that it would be terminating its flights to Israel due to lack of profitability. If given the green light by the Saudis, Air India Boeing 787 planes would once again be landing on and taking off from Ben Gurion's runways.

Presently, only Israel's El Al airline operates flights between the two countries, with India being a notably popular holiday destination, particularly among freshly discharged IDF soldiers.

But the El Al flight from Israel to Mumbai demands an elongated route and protracted flight duration, flying above the Arabah, continuing along the Red Sea until reaching Yemen and then finally turning east toward India which lasts around eight hours.

Sources in Netanyahu's delegation said Monday that the issue was raised during conversations between him and Prime Minister Narendra Modi. At the conclusion of the discussions, the two prime ministers inked an aviation agreement that will facilitate changes in airfares and security arrangements and further coordination between Israel and India.

Speaking at a briefing with his Indian counterpart, Netanyahu said that the "upgrading of direct aviation routes will encourage the movement of investors, tourists, students and entrepreneurs."

Business matters notwithstanding, Netanyahu also said during the briefing that he was taking his opportunity, as the first prime minister to visit India in 15 years, to indulge in the delights the country has to offer.

"I am doing what I didn't manage to do after the army. Now I am doing the trek in India. I want to thank my close friend, Narendra Modi, who gave us an exceptional welcome," Netanyahu said Monday at the conclusion of his "trek" in New Delhi.