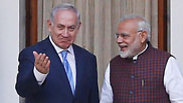 Netanyahu with Modi
Photo: Reuters
Netanyahu, Modi sign nine cooperation agreements
Israel gives initial approval for Indian energy companies to explore oil and gas in the eastern Mediterranean, while Netanyahu pushes for free trade pact during talks in New Delhi; Modi invites Israeli companies take advantage of India's liberalized rules in the defense sector to 'make more in India with our companies.'
India and Israel will begin work on a free trade pact that Jerusalem has been pushing for, officials said on Monday, as Benjamin Netanyahu began a first visit by an Israeli prime minister in 15 years.

India and Israel have built close ties over the years, largely centered on arms purchases, away from the public eye. But under Indian Prime Minister Narendra Modi, whose nationalist party has long admired Israel for its tough approach to terrorism, ties have flowered across the economy.

"We have had diplomatic relations for 25 years, but something different is happening now," Netanyahu said soon after the two sides signed nine agreements covering cooperation in cyber security, space and oil and gas exploration.




Israel has given initial approval for Indian energy companies to explore oil and gas in the eastern Mediterranean, in the first such move by Indian firms in that region.

Netanyahu, who said he saw a "kindred spirit" in Modi in terms of getting things done, pushed for a free trade pact with Asia's third largest economy during the talks on Monday.

Modi agreed to open trade discussions, Indian foreign ministry secretary in charge of economic relations Vijay Gokhale told reporters. "A delegation from the commerce ministry will actually go next month for discussions on trade," he said.

Bilateral trade has jumped from $200 million in 1992, when the two countries opened diplomatic relations, to $4.16 billion in 2016, largely in favor of Israel.

Netanyahu, accompanied by a 130-member delegation, wants to increase exports to India by 25 percent over the three years.

Israel has emerged as one of India's biggest suppliers of weapons alongside the United States and long-term partner Russia.

But the two sides were tightlipped over the fate of a $500 million deal to buy anti-tank missiles from Israel's state-owned defense contractor Rafael that India called off just weeks before Netanyahu's first.

The Indian government wanted to support a local program to build the missile but Israel has since pushed hard to revive the order. It has offered to transfer technology and eventually build the missile with a local partner in a boost for Modi's signature Make-in-India drive for a domestic defense base.

Without referring to the anti-tank missile deal, Modi said he had invited Israeli companies to take advantage of India's liberalized rules in the defense sector to "make more in India with our companies."

PM Netanyahu visits India

The two countries' investment in the defense sector doesn't end with weaponry though, and a cooperation agreement was inked between the two premiers regarding cyber security—a rising front in warfare—involving development of mutually-beneficial training programs, promotion of joined conferences and meetings between academies and industries of both countries.

The two also agreed to collaborate on development of air services, with the possibility of changes in tariffs and safety and security arrangements.

Lastly, on a more lighthearted note, an understanding was reached and signed to strengthen ties between the two countries' film industries by providing government support funds for Israeli-Indian productions.

Last year, Modi made a first trip to Israel by an Indian prime minister ever.