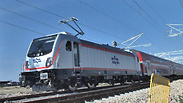 The express Jerusalem train line
Photo: Meshi Ben Ami
Jerusalem express train takes test drive
Israel to inaugurate its first express electric train line this coming March, running from Tel Aviv to Jerusalem; 'A major upgrade to public transportation,' boasted Transportation Minister Katz during test drive; despite festivities, many challenges remain to meet deadline.
The express train to Jerusalem, going from Tel Aviv's HaHagana station to Jerusalem in only 28 minutes, will commence activities this coming March, and took a test drive Tuesday.

During the test run, the train went from Mishmar Ayalon, a moshav in central Israel, to Sha'ar HaGai on the outskirts of Jerusalem—a relatively short portion of the entire line's length—reaching a top speed of 120 kilometers per hour.

When construction works are completed, the train will be able to reach Israel's normal train speed of 160kmph.

Sitting in caboose, Transportation Minister Yisrael Katz said, "It's a major upgrade to public transportation, a historic link and a boost to Jerusalem."

Train engineer Avi Shitrit said, "It's simply historic. The first time I boarded the caboose I was thrown off by how quiet it was. We're used to loud, polluting diesel engines, and now we have electric, eco-friendly technology."

Despite the festive airs surrounding the launch of the country's first electric express train line—decades behind other developed countries—Israel Railways were hard pressed to hide away first-time jitters.

The Transportation Ministry committed to operating an electric line from Herzliya to Jerusalem by the end of March, but works have yet to be completed. Commenting on the Herzliya line delay, Katz assured, "It's only a delay of several months, which I'll try to contract."

During its first stage of operations, the train will operate on a single track running from the Jerusalem Binyanei HaUma railway station to Tel Aviv's HaHagana railway station. In its first two months of operation, one train will run every hour in either direction, contrary to previous promises of four trains ever hour.

In the future, the line's frequency may be expanded to six trains an hour during peak times.

Sources in the infrastructures sector said Katz's commitment to inaugurate the line this coming March was "ambitious" considering all of the challenges still facing crews on the ground.

Only last week did the Supreme Court finally approve the settlement agreement between the project's contracting companies, and quite a bit of work remains to be done: electrification from Mishmar Ayalon westwards to Tel Aviv and around the Binyanei HaUma station, completing laying down the tracks from the end of Bridge 10 and until HaUma station and assimilation of the new signaling systems.

The Jerusalem express railway line includes a double track 56km in length and will pass through Ben Gurion Airport, Modi'in and Sha'ar HaGai. The train will make some four million trips its first year of operation.

The estimated cost of the line is NIS 7 billion and particular importance was placed on the national project's realization due to the significantly increased accessibility to the capital.