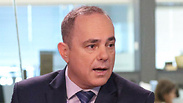 Minister Steinitz
Photo: Avi Moalem
Minister Steinitz calls Abbas 'anti-Semite,' says he sabotaged the peace process
Commenting on the Palestinian leader's latest scathing and warlike remarks against Israel, Security Cabinet member Steinitz says Abbas does not believe the Jews have the right to self-determination, sabotaging the peace process as a way to force Israel to make concessions.
Member of the Security Cabinet and Minister of National Infrastructure, Energy and Water Resources Yuval Steinitz (Likud) said Thursday that Palestinian President Mahmoud Abbas "buried" the peace process, adding it will not be possible to renew it as long as he is in charge of the Palestinian Authority.

"(There will be no further negotiations) as long as Abbas is the Palestinian leader, and so long as the moderate Palestinian leadership does not recognize the right of the Jews to a state of their own," Steinitz stated in an interview with Ynet.

The minister said this in light of Abbas' "ignorant" speech at the PLO's Central Council on Sunday, in which he called Israel 'a colonial project,' and his belligerent remarks in Cairo on Wednesday, when he said that the issue of Jerusalem could lead to "war, insecurity and instability if it isn't (the capital of Palestine)."


"Abbas is taking a very radical line," the minister claimed. "It is true that he says he will not take the way of terrorism, but he basically promotes it—with stipends for the families of terrorists who succeeded in killing Israelis.

"This time, though, what he said showed even greater support for acts of violence and terror against Israelis."

Quoting an Egyptian philosopher's words on the Balfour Declaration on providing a national home for the Jewish people, Abbas said in his speech earlier this week this week that "Israel is a colonial project that has nothing to do with Jews. Europeans wanted to bring the Jews here to preserve their interests in the region. They asked Holland, which had the world's largest fleet, to move the Jews."

Abbas "proved as any good anti-Semite also amazing ignorance (with) the things he said about (Oliver) Cromwell, the British leader who, according to him, wanted to send the Jews on the ships of the Dutch fleet to Israel about 400 years ago as a plot (against the Palestinians)," Steinitz derided, explaining that Cromwell actually "invited the Jews to settle in Britain."

Steinitz labeled Abbas' harsh declarations "anti-Semitic," saying they "repeat the false theory that the Jews are only a tool of the colonialists, that there is no Jewish people, that we have nothing to do with this land, that all Jewish existence here is a despicable act, against the authentic indigenous peoples.

"The Palestinian leader comes and says such things, demands that we recognize the existence of the Palestinian people and their rights, but adds—and this is also written on the website of his presidential guard—that 'there is no Jewish people, and therefore it has no rights of its own.' In other words, we have no right to our own country in the land of our forefathers."

Steinitz noted that Abbas never reached any agreements with any Israeli government, not even when the left was in power, reiterating his labeling of the Palestinian leader as "the most anti-Semitic leader in the world."

When asked whether he's worried that complete stagnation of the peace process could lead to the Palestinian Authority's collapse, Steinitz replied that "The PA actually collapsed in 2003 after Operation Protective Edge, and each city took municipal responsibility for itself.

"We do not have to be threatened by this scenario, and we do not hold out hope for Abbas, because he is an anti-Semite at much higher levels than even (former PLO Chairman Yasser) Arafat, and it will be good if someone else will come and take his place."

Steinitz then explained Abbas' recent rhetoric as his way to use the US' recent recognition of Jerusalem as Israel's capital and funding cut to the Palestinians to worsen tensions, and force Israel's hand and compel it to make appeasements to preserve the quiet.

"He thwarted any attempt—even by left-wing governments, even when (former Prime Minister Ehud) Barak offered him half of Jerusalem—any attempt to come close to a peace agreement and did so because … he really does not believe that the Jews have the right … to self-determination and to a state of their own," he stressed.

"If Abbas does not change his positions, there is no chance for a peace process," he concluded, likening it to a leopard changing its spots.