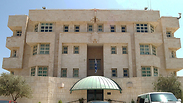 Israeli embassy in Amman
Photo: Shalom Bar-Tal
Israel has reportedly paid $5 million in compensation to Jordan for the death of two of its citizens at the Israeli embassy in Amman in July and of a Jordanian judge at the Allenby Bridge border crossing in March 2014, diplomats in the kingdom told Jordanian newspaper Al Ghad on Saturday.

Israel has formally apologized for the deaths of 17-year-old Mohammad Jawawdah and Dr. Bashar Hamarneh by an Israeli security guard at the embassy in Amman, and for the killing of Palestinian-Jordanian judge Raed Zeiter at the Allenby Bridge border crossing in March of 2014.

Prime Minister Benjamin Netanyahu confirmed on Friday that Israel has agreed to pay compensation to the Jordanian government - but not to the families of the three dead.

The Jordanian diplomats, however, told Al Ghad the money was transferred directly to the families of the Jordanian dead.

They further emphaized the Israeli embassy in Amman will not resume full operations until a new ambassador is appointed to replace Ambassador Einat Shlain, who was recalled after the shooting in July.

"Israel and Jordan have reached an agreement following the incident in Amman involving an Israeli diplomat on July 23, 2017 and the incident in which a Jordanian judge was killed on March 10, 2014," the Prime Minister's Office said in a statement Friday.

"The Israeli embassy in Jordan will return to full activity immediately. The Israeli authorities will continue reviewing the materials regarding the July 2017 incident and anticipate making a decision in the coming weeks," the statement continued.

"Israel attaches great importance to its strategic relations with Jordan, and the two countries will act to advance their cooperation and to strengthen the peace treaty between them."

In March 2014, Jordanian judge of Palestinian descent, Raed Zeiter, was shot dead at the Allenbey border crossing after trying to attack an IDF soldier and snatch his weapon.

In late July 2017, an Israeli embassy guard shot dead a Jordanian teenager who stabbed him with a screwdriver. The Jordanian owner of the property rented by the Israeli embassy was hit by a stray bullet and killed. This led to the evacuation of the embassy in Amman.