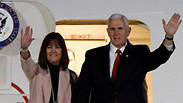 VP Pence (R) and his wife Karen
Photo: Reuters
VP Pence to land in Israel Sunday for 3-day visit
Mike Pence, considered staunch Israel supporter, will land at Ben Gurion Sunday for 3-day visit to Israel; without pomp and circumstance of President Trump's prior visit, Pence will meet PM Netanyahu, President Rivlin and speak at Knesset; VP will not be visiting PA, Joint List Arab MKs plan to boycott speech.
Vice President Mike Pence will be touching down in Israel Sunday for his first official visit to the country as President Donald Trump's second-in-command. Despite the occasion, Pence's visit will be very low-key, possibly due to his administration's stained ties with the Palestinians and others in the region.

In fact, the vice president, considered a stalwart friend of Israel, will not be meeting any Palestinian officials due to their boycott of the Trump administration in the wake of the president's recognition of Jerusalem as Israel's capital, a statement propelled and encouraged by Pence.

Pence's visit may be more attuned to reaping the political rewards of his support base—American Evangelicals and Jewish supporters of the Republican party. While Pence's children did not join him, his wife Karen is accompanying him on his Middle Eastern tour.

In a speech to be given in the Knesset Monday afternoon, Pence is expected to express the Trump administration's unassailable commitment to Israel's security, but will also stress the need to promote peace with the Palestinians and painful concessions.

Pence will also touch on the hot-button issue of moving the US Embassy from Tel Aviv to Jerusalem and will clarify it was not merely an empty promise but one the administration intended to stick to.

Along those lines, the New York Times reported over the weekend that American Ambassador to Israel David Friedman and a limited staff will begin operations in Jerusalem as early as next year.

Pence's Air Force 2 jet is expected to land at Ben Gurion Airport Sunday at 9:30pm. He will be greeted by Tourism Minister Yariv Levin, but no state welcoming ceremony will be held at the airfield.

The following day Pence will be greeted at the Prime Minister's Office with a reception ceremony, but one without any speeches or declarations. Pence will then take a working meeting with Prime Minister Benjamin Netanyahu.
A private Kotel visit
Pence will be arriving to the Knesset Monday at 1:30pm and make the aforementioned speech before the parliament's plenum at 2pm. He will then meet Knesset Speaker Yuli Edelstein.

Later in the day, he will be arriving at the Prime Minister's Residence for a gala dinner with Prime Minister Netanyahu and the pair's wives. Netanyahu and Pence will then make joint statements.

Then, Pence will convene with President Rueven Rivlin Tuesday morning. His wife Karen will be meeting the president's wife Nechama separately.

At 12pm Pence will visit Jerusalem's Yad Vashem Holocaust Museum and will place a wreath at the Yizkor memorial hall.

The American vice president will then leave the museum for a private visit to the Kotel at 1:45pm, accompanied by Kotel Rabbi Shmuel Rabinovitch but no senior Israeli officials. Immediately following his visit, he and his entourage will make their way back to Ben Gurion and Air Force 2 to depart Israel.




Pence will not be visiting the Palestinian Authority and—despite being a devout Christian—will not be praying at Jerusalem's Church of the Holy Sepulchre or any of the sites holy to Christianity in northern Israel.

Prime Minister Netanyahu said in anticipation of Pence's visit that it represented "further testament to the powerful link between Israel and the United States. We will be discussing several important items on the political and international agendas."

Joint List Chairman MK Ayman Odeh announced that his party's Arab MKs will be boycotting Pence's Knesset speech. "I was asked whether there was any change in our position vis-à-vis Vice President Pence's visit," Odeh said. "He is a dangerous man with a messianic vision that includes the destruction of the entire region, arriving as emissary of an even more dangerous man, a political pyromaniac, racist and misogynist who must not be a leader in our region. The entire Joint List will be boycotting his speech."

Anticipating Pence's visit to Israel, the Institute for National Security Studies (INSS) conducted a public opinion poll according to which 71 percent of Israelis believe Israel's relationship with the US has improved since Trump took office.

Furthermore, 31 percent believed the US's position as a superpower grew stronger since Trump ascended to the White House, while 31 percent believed it weakened and 38 percent thought it remained unchanged. In addition, the majority of the public believed Trump would be able to promote a significant peace push.

VP Pence speaking at press conference with Egypt's al-Sisi (רויטרס)

Before his planned visit to Israel, Pence touched down in Cairo Saturday evening for a meeting with Egyptian President Abdel Fattah al-Sisi. A spokesman for the Egyptian leader said after the meeting that al-Sisi noted to his guest the strategic nature of the Egypt-US relationship, which lean on a long history of cooperation.

Al-Sisi further elucidated the importance of the relationship, which "constituted one of the stabilizing factors in the Middle East."

The pair also spoke of the American recognition of Jerusalem as Israel's capital, with an Egyptian source saying that "President al-Sisi made clear Egypt's principled stance on the Palestinian issue—supporting the rights of the Palestinian people to create an independent country with east Jerusalem as its capital."

"Settling the Israeli-Palestinian conflict," the Egyptian source further expounded, "was only to be done through negotiations based on the two-state solution, which Egypt will spare no resources to support."

Al-Sisi concluded by stating the importance of the US continuing to shoulder the burden of acting as mediator in such negotiations.