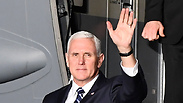 Pence arriving in Israel on Sunday night
Photo: Matty Stern/U.S. Embassy Tel Aviv
Pence tells Netanyahu: 'Great honor to be in Israel's capital Jerusalem'
American VP tells Israeli PM that he looks forward to discussing 'opportunity for peace,' insisting the recognition of Jerusalem was done to 'create an opportunity to move on in good faith negotiations between Israel and the Palestinians.'
US Vice President Mike Pence told Prime Minister Benjamin Netanyahu on Monday he was "hopeful that we are at the dawn of a new era of renewed discussions to achieve a peaceful resolution to the decades-long conflict that has affected this region."
The two leaders met at the outset of Pence's second day in Israel, with Netanyahu telling the American vice president, "I've had the privilege over the years of standing here with hundreds of world leaders and welcome them, all of them to Israel's capital, Jerusalem. This is the first time that I'm standing when both leaders can say those three words, 'Israel's capital, Jerusalem.'"
Pence echoed the prime minister's comments, saying it was a "great honor" and a "privilege" for him to be "in Israel's capital, Jerusalem."
Pence and Netanyahu meet in Jerusalem (צילום: אלי מנדלבאום)
It is the highest-level US visit to the region since President Donald Trump on December 6 recognized Jerusalem as Israel's capital and promised to begin the process of moving the American embassy to the city, angering the Palestinians, who announced they will no longer accept the United States as a mediator in the peace process.
Despite this, Pence said he looked forward to speaking with Netanyahu "about the opportunity for peace," insisting the recognition of Jerusalem was done to "create an opportunity to move on in good faith negotiations between Israel and the Palestinians."
"Will you do it by next year?" Pence and Netanyahu were asked by a reporter about an embassy move.
"We'll do it next week," Netanyahu responded jokingly. Pressed on whether he was serious, Netanyahu said he was not, but added, "We want to do it."
Upon his arrival at the Prime Minister's Office in Jerusalem, the US vice president reviewed an Israeli honor guard and even broke protocol by speaking to some of the soldiers. "You have great submarines," Pence told one of the Navy soldiers and patted him on the back.
Pence arrives at the Prime Minister's Office (צילום: אלי מנדלבאום)
"The vice president has been a true friend of Israel for many years and a great supporter of Israel," the Prime Minister's Office said in a statement Monday. "The ties between the American people and the Israeli people are reflected in wide scale American support of Israel and partnership based not just on interests, but also on basic values. The visits by the president and the vice president are a testament to the strength of these ties. Israel deeply appreciates President Trump and his administration for their policies on important issues such as the nuclear agreement with Iran, the recognition of Jerusalem as Israel's capital and the support for Israel at the UN."
Outraged at Trump's Jerusalem declaration, a move that reversed decades of US policy on the city's status, the Palestinians are snubbing Pence. President Mahmoud Abbas left for an overseas visit before the vice president's arrival. Abbas travelled to Brussels, where he will
ask the European Union to recognize the state of Palestine
"as a way to respond" to Trump's Jerusalem declaration.
Nor is Pence, an evangelical Christian who has been vocal on the subject of protecting Christians in the Middle East, scheduled to make any private trips to Palestinian areas such as Bethlehem, a city whose Christian significance usually draws Western dignitaries.
"The American recognition of Jerusalem as Israel's capital and the occupation are illegitimate. The American administration must not contribute to escalating the situation further," said Nabil Abu Rdainah, a spokesman for Abbas, after Pence's remarks.
Mrs. Pence meets with Mrs. Netanyahu
While Pence and Netanyahu were meeting at the Prime Minister's Office, their wives Karen and Sara met with representatives of The Israeli Association of Creative and Expressive Therapies (Yahat), a cause close to Mrs. Pence's heart.
"We have known about each other for many many years, and we have just met for the first time, so it's just a great treat," Karen Pence said of Mrs. Netanyahu.
"Art therapy is not arts and crafts," Pence stressed. "This is a type of therapy."
"I'm not an art therapist, and when I watch you work, I'm amazed. It's such a spectacular profession that I've decided to become an advocate for you. I want to raise awareness and elevate your profession. I want more people to go into art therapy," Mrs. Pence continued.
Mrs. Pence and Mrs. Netanyahu discuss art therapy (צילום: משי בן עמי)
"This is not meant to supersede any other therapies, this is meant to be a supplement. Another type of therapy," she added.
A shower at the Knesset
Later in the day, Vice President Pence will address Israel's parliament, the Knesset, at 2pm, following which he will meet with Knesset Speaker Yuli Edelstein.
The American vice president will finish his day with a dinner at the Prime Minister's Residence with the Netanyahu couple, and the two leaders are also expected to deliver remarks to the media.
In his Knesset speech, the American vice president is expected to reiterate Trump's recognition of Jerusalem, and possibly present a timetable for the Israeli embassy's move to the capital.
US officials have said an embassy move from Tel Aviv could take up to three years. But there has been speculation that Pence could announce a stop-gap arrangement, such as the conversion of one of the US consulate buildings in Jerusalem to a de facto embassy.
Netanyahu has said he expected at least an interim arrangement to go into effect very soon, perhaps within a year.
Pence will speak to an almost full Knesset. Only members of the Joint List Party are expected to miss the speech after announcing they will boycott it in solidarity with the Palestinians.
"I consider it a disgrace that members of Knesset are planning on boycotting this important visit to the Knesset," Netanyahu said Sunday evening.
Pence has made a list of requests ahead of his visit to the Knesset, including a teleprompter, two additional cameras to document his speech in addition to the Knesset Channel cameras, warm lighting, and a room with a shower to get ready in.
Several streets in Jerusalem will be closed for traffic throughout the day due to Pence's visit, including Plumer, Jabotinsky, HaNasi, HaAri, Gaza, Nayot, HaRav Herzog, Zalman Shneur, Yehuda Burla, HaMuze'onim Boulevard, Haminhala, Shmuel Stephan Weiz, Balfour, and the Knesset area. David HaMelech Street will remain closed throughout the entire visit, until Tuesday.
For his last day Tuesday, Pence will meet with Israeli President Reuven Rivlin in Jerusalem, while his wife Karen will meet with the president's wife Nehama Rivlin. The US vice president will then visit the Yad Vashem Holocaust Museum, where he will lay a wreath.
In the afternoon, Pence is expected to make a private visit to the Western Wall. In the evening, he will bid Israel farewell on board Air Force Two.
In protest of Pence's visit, the Palestinian Authority announced a general strike on Tuesday including both the private and public security. Only medical facilities will operate, while schools will finish early, at 12pm.
The private sector in the Gaza Strip also announced a general strike in protest of the continued blockade by both Israel and Egypt and the worsening economic situation in the enclave.
Reuters contributed to this story.