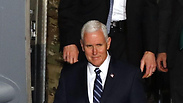 US VP Mike Pence
Photo: AFP
US Vice President Pence arrives in Israel
Praised as a 'great friend' by PM Netanyahu, Mike Pence lands in Israel fo 3-day trip where he is welcomed by Minister Yariv Levin and US Ambassador to Israel David Friedman; Pence to discuss peace process, Iran and deliver a speech to the Knesset, which is to be boycotted by the Arab Joint List.
US Vice President Mike Pence began a visit to Israel on Sunday after being praised as a "great friend" by Prime Minister Benjamin Netanyahu and shunned by the Palestinians over US recognition of Jerusalem as Israel's capital.

Pence was welcomed at Tel Aviv's Ben-Gurion Airport by Israel's Tourism Minister Yariv Levin and US Envoy to Israel David Friedman and made no statement to reporters before travelling to Jerusalem.

It is the highest-level US visit to the region since President Donald Trump made his Jerusalem declaration on December 6 and promised to begin the process of moving the American embassy to the city, whose status is at the heart of the Israeli-Palestinian conflict.

US VP Mike Pence lands in Israel (באדיבות חדשות 10)

With the Palestinians boycotting Pence, the visit provides little obvious opportunity to build bridges towards peace.

But it gave Pence, a conservative Christian, Netanyahu, a right-winger who has hailed US evangelicals for their support of Israel, an opportunity to shine a spotlight on the holy land visit and their own warm relationship for a community that serves as a power base for Trump and his vice president.


Palestinian President Mahmoud Abbas, calling Trump's declaration a "slap in the face", has rejected Washington as an honest broker in any future talks with Israel. Abbas left for an overseas visit before Pence arrived.

Pence flew into Tel Aviv's Ben-Gurion Airport from Jordan on a US military plane after visiting US troops on the Syrian border.

Netanyahu, addressing his cabinet earlier on Sunday, described Pence as a "great friend of the State of Israel" and said they would discuss US efforts "to halt Iran's aggression, the Iranian nuclear programme, and ways to advance peace and security in the region."

"Anyone who truly wants to fulfill those goals knows there is no substitute to the United States' leadership," Netanyahu said.

Trump's shift on Jerusalem drew universal condemnation from Arab leaders and widespread criticism elsewhere. with Palestinians and other Muslim-populated countries staging days of rage.

In comments delivered in Egypt, his first stop on the Middle East visit, Pence said Washington would support a two-state solution for Israelis and Palestinians if the two sides agreed to it.

Visiting Jordan on Sunday before flying to Israel, Pence told its monarch, King Abdullah, that Washington was committed to preserving the status quo of holy sites in Jerusalem, a city sacred to Jews, Muslims and Christians.

Concluding his visit in Amman, Pence said he and Abdullah had "agreed to disagree" about Washington's recognition of Jerusalem as the capital of Israel.

Earlier on Sunday, MK Ahmad Tibi (Arab Joint List) described Pence as "one of the most extreme and delusional people in the American administration."

Speaking in an interview with Ynet, Tibi explained why his party had decided to boycott Pence's address to the Knesset during his three-day trip to Israel.

"His ultimate goal shouldn't really please the general Jewish public in Israel, but due to the fact that he pushed for Trump's speech to transfer the embassy (to Jerusalem) and recognize the so-called capital of the Jewish state, people are enthusiastic about him being here," Tibi said.

Attila Somfalvi and Alexandra Lukash contributed to this report.