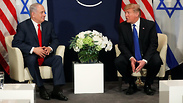 President Trump and PM Netanyahu in Davos
Photo: Reuters
Trump gave Israel strong support on Iran, says PM
Speaking after his meeting with the US president on the sidelines of the World Economic Forum in Davos, Netanyahu expresses optimism about 'extremely strong support' he received from Trump for Israel's efforts to counter Iranian threats; says Israel ready to talk peace with the Palestinians, but laments their lack of reciprocation.
Prime Minister Benjamin Netanyahu's Thursday meeting with the US president on the sidelines of the World Economic Forum in Davos were "exceptional," according to the Israeli premier, with Donald Trump showing "strong support" for Jerusalem's efforts to thwart Iranian threats.

"He dealt not only with the peace process, but everything that is taking place in our region, including the nuclear deal with Iran," said Netanyahu, whose long-standing concerns over the regime's nuclear ambitions align with Trump's.

PM Netanyahu and President Trump in Davos

The two allies discussed at length Tehran's plans to develop precision missiles both in Lebanon and Syria, and to entrench its military forces in the latter, which Israel says are intended to be used as a launchpad for implementing a war on its territory.


According to Netanyahu, Trump demonstrated sympathy for Israel's policy to counter Iranian aggression.

"I left there with a feeling that we have extremely strong support for our policies against Iranian entrenchment in Syria and its attempts to produce precision missiles," Netanyahu said. "I think President Trump fully understands these positions, and I think he giving unwavering support to Israel."

During a joint press conference held with Netanyahu, Trump openly stated his disdain for what he said was the Palestinian refusal to return to the negotiation table with Israel and their increased intransigence since he announced his recognition of Jerusalem as Israel's capital.

Echoing the president's remarks, Netanyahu later said that the Palestinians are searching for excuses to avoid a sincere conversation to discuss genuine peace. "Genuine peace is something I think you are familiar with. It includes not only the security issues that will remain in our hands, but also the recognition of a Jewish state," Netanyahu said.

"This recognition is the root of the conflict. These are the positions that I have clearly presented. I say categorically—we are ready for peace negotiations, I don't see the Palestinians responding to this," he added.

Addressing European leaders at the forum, Netanyahu said he was unconcerned about the fate of the Iranian nuclear deal which was led by former US president Barack Obama and signed in 2015, but was determined to prevent nuclear weapons being developed by the Iranians.

"I don't particularly care if they fix the deal, or if they cancel the deal, or nix it, the important thing for me is the prevent Iran from getting a nuclear arsenal because Iran not only spreads terror world wide, Iran openly says it's going to use those weapon, and every weapon they have, to annihilate Israel. We're not going to let that happen," he stated.

He also suggested a "new model" for peace with the Palestinians that would allow them to govern themselves but maintain Israeli control over security but declined to endorse a "two-state solution."

Later on Thursday, Netanyahu met with Czech Prime Minister Andrej Babis and then with Dutch Prime Minister Mark Rutte to discuss ways to increase cooperation with Israel in various areas. He briefed them on the challenges and opportunities in the Middle East and invited them to visit Israel.

He also met with Croatian Prime Minister Andrej Plenkovic, with the two agreeing to move forward on the sale of Israeli F-16s to Croatia according to the terms of the tender.

"This development is a further expression of the deep times between the two countries. The two leaders agreed to expand economic, security, water, agricultural, academic and tourism cooperation," read a statement by the Prime Minister's Office.