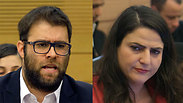 MK Hazan and MK Biran
Photos: Yoav Dudkevitch, Ohad Zwigenberg
The Knesset's Ethics Committee barred MK Michal Biran (Zionist Union) from the plenum for a week after she called Likud MK Oren Hazan a "pimp" during a Finance Committee meeting.

In explaining its decision, the Ethics Committee said Biran refused to apologize for her remarks and continued calling MK Hazan a "pimp."

Hazan has filed several complaints in the past against MKs who called him a "pimp," but so far the Ethics Committee has chosen not to sanction the offending parties.

However, because MK Biran refused to apologize, it was decided to take disciplinary action against her and suspend her for a week starting Sunday.

The committee is also discussing a list of complaints against Hazan, and is expected to make a decision on the matter on Wednesday.

The verbal confrontation between Biran and Hazan took place in November, when the Finance Committee was discussing a legislation proposal that would obligate the KKL-JNF to give 80 percent of its earnings to the state.

A comment by Hazan at MK Rachel Azaria (Kulanu) prompted Biran to respond.

The Ethics Committee also barred MK Stav Shaffir (Zionist Union) from the Knesset plenum for a week after she called MK Miki Zohar (Likud) corrupt during a Finance Committee hearing.