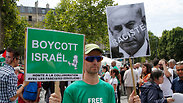 Ruling: Kansas law targeting Israel boycotts impedes free speech
Federal judge blocks Kansas anti-BDS law prohibiting state from entering into contracts with individuals, companies participating in Israel boycott, saying striking it down violates free speech rights; almost half of US states have anti-BDS laws.
A federal judge has temporarily blocked a Kansas law barring state contractors from participating in boycotts against Israel, saying the state law violates their free speech rights.
US District Judge Daniel Crabtree ruled Tuesday that the US Supreme Court has held that the "First Amendment protects the right to participate in a boycott like the one punished by the Kansas law."
Crabtree granted the request from the American Civil Liberties Union to block enforcement of the law while the case proceeds. The judge found it is "highly likely" that the Kansas law is invalid and blocking it protects a constitutional right.
The law that took effect in July prohibits the state from entering into contracts with individuals or companies participating in a boycott of Israel.
Twenty-four states have such policies.
Last week, the New Orleans City Council unanimously rescinded a human rights resolution, two weeks after approval of the seemingly benign measure sparked accusations that members had unwittingly played into the hands of international anti-Israel extremists and anti-Semites.