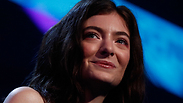 Lorde. Got caught in the headlines she despises
Photo: Getty Images
BDS, unfortunately, is still alive and kicking
Op-ed: The international artists who flooded Israel this past summer gave us the feeling that the boycott movement had been defeated; Lorde's cancellation indicates it was just an illusion: In the touring industry, the Israeli-Palestinian conflict appears to be a relevant issue.
"I hate the headlines and the weather, I'm 19 and I'm on fire," Lorde sings in "Perfect Places," the song concluding her wonderful second album.
About two years have passed since the night this line was written, and it's all still true: A young artist with a meteoric career gets caught in the headlines she despises. Her way out results in disappointment for tens of thousands of Israelis.
Shortly after the production company confirmed that Lorde had decided to cancel her planned concert in Israel, the usual outburst of slurs emerged: From "she probably didn't sell enough tickets" to "who is she anyway?"
But the truth is that like Radiohead's determination to defy Roger Waters lifted our spirits ahead of the band's historic show at Tel Aviv's Yarkon Park, Lorde's retraction is very depressing. It's not every day and not every decade that the Israeli audience gets an opportunity to see a musician as she sails to the top, at the end of a phenomenal year in nearly every aspect.
One doesn't have to agree with the Boycott, Divestment and Sanctions (BDS) movement to understand Lorde's position. Whether we like it or not, an international artist's performance in Israel is a political act. Those who do it are either part of a well-oiled system which is interested in the bottom line—the money—or people who have formed an opinion and are capable of dealing with the consequences.
Lorde, it seems, is neither here nor there. It also has to do with age and experience. So it was nice reading the post published by the show's producer, Eran Arielli, who acknowledged Lorde's difficulty in dealing with the pressure and thanked her for her actual willingness to perform here. That's the response of a person who recognizes the complexity of the situation and doesn't rush to get offended on behalf of the nation.
The past summer's concerts, and primarily the high profile of Radiohead's arrival, gave us the feeling that BDS had been defeated. Lorde's cancellation indicates that it was an illusion. Our justice minister can tell us that she isn't asked about the Israeli-Palestinian conflict in Japan, but in the touring industry it appears to be a relevant issue. We can get annoyed, protest and slam the door angrily like a 10 year old who wasn't given the toy he demanded. That won't change reality.
"Let's go to perfect places," Lorde sings. Israel, unfortunately, isn't one of them.