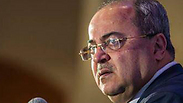 Ahmad Tibi: 'I will not sit alongside Miri Regev in the stands'
The Joint List MK, who happens to be a diehard supporter of the Bnei Sakhnin Israeli Arab football team, is unimpressed with Betar Jerusalem's struggles against its own racist support, looks down on Sports Minister Regev's performance and needles Israel on being overtaken by Palestine in the FIFA standings: 'Some occupy top position, others occupy another people.'
Beyond being an Arab-Israeli MK from the Joint Arab List, a deputy Knesset speaker and a gynecologist by trade, Ahmad Tibi, 59, is one of the most ardent supporters of Bnei Sakhnin F.C., the only Israeli Arab side currently playing in the Israeli premier football league.

Not content with merely attending games to cheer his team on, however, Tibi also attempts to raise support of various Arab Israeli teams, including ones in Tayibe, the city of his birth.

Tibi raised the funds needed to build Bnei Sakhnin's Doha Stadium thanks to his ties in Arab countries, which drew quite a bit of criticism in Israel considering Qatar—the team's benefactor—also supported terrorist organizations such as Hamas.

"I hope and raise funds transparently and within the confines of the law for teams and other civil groups, in places where the state failed," MK Tibi explained. "I will continue to do so. I raised six million dollars to build the Doha Stadium. We also transferred funds to the (Bnei Sakhnin) club itself."

The Qataris have withdrawn their support. Why is that?

"I'm unfamiliar with any withdrawn support."

Is there any chance of you once again raising funds from Qatar?

"Not necessarily from there, but basically yes. I'm currently in the midst of fundraising from a number of entities both in Israel and abroad. Several months ago I helped a Tayibe football team gather funds, and have collected ten million shekels for them so far."
Deficient investment and deficient representation in the Arab sector
Tibi has much to say regarding the Israeli football player's standing in Israel today. "The Arab player's standing is derived from his social standing, in sports in general and in football in particular. Football is a sort of mirror reflecting social, political and economic aspects.

"Arab players' wage levels must be increased. Despite the improvement in their skills, players from the Arab sector are still underrepresented, both in the Premier League and in the Israeli Football Association (FA). There is also room to consider taking on more Arab referees in the league."

What about an Arab coach manning the lines of a Premier League side?

"The fact that there isn't one stems from a lack of investment and institutional encouragement, possibly due to limited job options or the fact it is not considered a preferred career. There's also a lack of proper representation in the FA itself, which could have encouraged their integration into the field. Professional Arab coaches exist."

But even Sakhnin don't seem to have any faith in Arab coaches.

"That's up to their professional judgment, but in no way attests to the lack of enough qualified Arab coaches who can work for the Premier League."

Do you believe the Israeli national team will have an Arab coach or even an assistant coach in the future?

"Yes, why not? There are Arab heads of wards in hospitals, Arabs in hi-tech and Arab teachers in Jewish schools, and Arab players playing for the national team have scored paramount goals, so why shouldn't there be an Arab coach?"

Bnei Sakhnin has been the only Arab representatives in the Premier League for quite a while now. How do you explain that?

"It's unfortunate, but it's a direct result of not enough resources, infrastructures and budgets. There's room for at least two more Arab sides in the Premier League. And it will happen the day the all sporting associations or football teams start on equal footing."

What do you think of Miri Regev's performance as minister of sports?

"Her performance as well as that of her ministry are purely political and reflect a parochial, discriminatory point of view. It hampers professionalism. Her affiliation with the eastern stands of Teddy Stadium (where the most hard-Right fans of football team Betar Jerusalem are seated—ed) is problematic. I don't like it when politicians only attend Betar's games against Sakhnin for the sheer photo-op."

Will we ever see you seated alongside the minister in the stands, whether in Doha or in Teddy?

"Absolutely not. I have no qualms about sitting down with her professionally as an MK to debate budgeting and facilities for Arab communities. I certainly do so, with several transfers made recently from the Sports Ministry towards the creation of sporting facilities in Jewish and Arab communities."

If you were minister of sports, what would you have done differently?

"I have no interest in being a minister. The prime minister of a bi-national democratic state, however…"
'Racist teams should be relegated'
Let's talk about Betar Jerusalem. Is the decision to hold it games against Sakhnin without supporters the right one?

"It's a badge of shame attesting to Israel's inability to eradicate the blight of racism. Some people are well-intentioned, but I highly doubt they'll succeed until significant, drastic measures are taken. The decision to close the eastern stands (of Teddy Stadium) is a step in the right direction, but by no means sufficient."

Betar Jerusalem has never fielded an Arab player. Is the team's management truly doing enough to sign an Arab player?

"I don't know, and don't think so. There's the roadblock put up by fans. The owner isn't the problem."

When will it happen, or can it happen?

"I really don't think an Arab player will want to play for Betar considering the pungent airs spread by the team's supporters. It's not supposed to be Arab players' dream."

What do you intend to do personally to allow that to happen?

"I'm not involved in that."

Could it be that pressures exerted by Jerusalem Mayor Nir Barkat and President Reuven Rivlin push to team's leaders to speak about coexistence, as a condition to receiving financial support?

"I don't think Nir Barkat stands for coexistence. The president, as a decent fan of the team, might be."

Can you spot any changes in Betar fans' conduct?

"No."

But fans of Sakhnin are not exempt when it comes to racism, are they?

"It has never been proven Sakhnin supporters ever chanted racist chants. Calling out 'Allahu Akbar' is not racism, and anyone who says otherwise is a complete ignoramus. Never has the chant 'Death to Jews' been chanted in Sakhnin or any other Arab pitch. However, 'Death to Arabs' is certainly called out in Teddy, as are 'May your village burn' and 'Mohammad is dead.' After all, 'The country's racist team' is the eastern stands' slogan."

Are punishments levied by the FA's disciplinary courts enough?

"Absolutely not."

What punishments should be handed down?

"They should be courageous enough to relegate racist teams."

Playing the Israeli national anthem before Betar games always causes a stir, despite of its legitimacy. What's your take on it?

"An inferiority complex and superfluous nationalism. Betar is a club, not a national team. There's no justification to playing the anthem at its games."

On the other hand, deploying Palestinian flags in stands also isn't right and sometimes arouses a lot of anger.

"It's legitimate and there's no fault in it. Waving the Palestinian flag hasn't been a crime in a long time, and it's a sort of response to the raising of Israeli flags by Betar fans, who'd come to Sakhnin flying dozens of them."

In the past you personally appealed to FIFA (football's international governing body) to intercede on the racism in football. Has it helped?

"No, but I'm not letting up. FIFA must at least examine the issue."

Israel is ranked below the Palestinian national team in the latest FIFA rankings. What do think about that?

"Israel, in 99th place, is 24 rungs below Palestine, in 75th. The vicissitudes of fate. Some people occupy a top position, while others occupy another people."

As someone considered a confidant to Palestinian Football Association boss Jibril Rajoub , could you put together an exhibition match between the two teams?

"Not so long as the occupation exists. National team games carry symbolic meaning."
Regev: Tibi more synonymous with the Mukataa stand
"Sports Minister Miri Regev commented on Tibi's interview and said, "Tibi's performance reflects an anti-Israeli worldview. His affiliation with the stand in Ramallah's Mukataa is a testament to who it is that he represents. Were he to be a true representative of Israeli Arabs, he would know how much the culture ministry under my leadership has done for Israel's Arab minority."

The Betar Jerusalem football club has yet to provide comment.