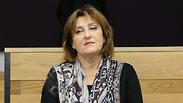 Former deputy minister Kirschenbaum
Photo: Yaron Brener
Prosecution accuses Kirschenbaum of giving away state budgets in return for bribes
Former Yisrael Beytenu deputy minister Kirschenbaum allegedly gave away portions of state budget in form of coalition funds over which she was entrusted in return for bribes from public institutions, NGOs and private persons; unprecedentedly, prosecution says Kirschenbaum most senior official to solicit bribes, goad others to collude with her.
A representative for the prosecution alleged Monday morning that the senior Yisrael Beytenu officials indicted for corruption offenses, which include former deputy minister Faina Kirschenbaum, gave away portions of the state's budget in return for bribes.

Kirschenbaum has denied all charges against her, which include soliciting and accepting bribery, fraud, breach of trust, money laundering and various tax offenses. Ten more people have been indicted along with Kirschenbaum on similar charges.

The trial, currently underway at the Tel Aviv District Court, has been dubbed the "bribery receivers' trial" with a concurrent trial being conducted involving those who allegedly provided the bribes.

Starting 2006 and until 2014, former MK Kirschenbaum allegedly acted in a planned, methodical—and sometimes devious—fashion to commit the offenses ascribed to her.

In many cases, the indictment alleged, she leveraged her position and standing as a high ranking public servant, as well as her access to state funds—supplied to her party through coalition agreements—to solicit and then accept bribes from public institutions, NGOs and private persons.

The bribes allegedly took the form of illicit favors provided for either Kirschenbaum or members of her family, Kirschenbaum's party or for her or her party's cronies.

It was further claimed that Kirschenbaum often asked or demanded other public servants, heads of public organizations, directors of NGOs or private citizens to help her in achieving or obfuscating her illegal goals, and goaded them to do so.

The prosecution's representative, attorney Maor Even Chen, made his opening statements on behalf of the State Attorney's Office's Financial Department, and said, "We have come across in the past different instances in which a public servant was indicted for bribery. This instance does not deal with permission to do something or a contractual relationship.

"The indictment includes things almost never before brought before a court—portions of the state's budget itself were cut up and handed out in return for bribes, not by clerks or assistants but by a legislator herself.

"Kirschenbaum and another suspect received portions of said budget. They are not indicted for negligence in the administration of their duties or possessing ulterior motives, but of turning Israel's budget into a means to their end."

Even Chen expounded, "Kirschenbaum was entrusted with her party's coalition funds, and the sole person tasked with how they were divided. She was therefore an important figure for many public institutions, who sought her out partly due to said authority over coalition funds. The different people providing bribes understood her position full well and wished to bask in proximity to her."

The prosecution's representative further stated that the police's investigation uncovered an organized, methodical mechanism of bribe taking. "It appears this was a recurring method. Firstly, someone would contact (the accused) seeking assistance or support. Then it would be made clear to them that they needed to transfer part of the funds directly (to the accused). The demand for bribery was presented as a legitimate act in the process of receiving budgeting.

"In some cases, Faina demanded to receive funds, products or favors in return for a portion of the budgets with which she was entrusted. In other cases, a bribe was demanded and received in roundabout ways—including transferring bribe money to different entities Kirschenbaum favored or to a 'joint project' that was effectively a cover for bribery."

Even Chen then went on to explain that, "They did not hesitate to contact institutions and NGOs that wished to empower their important work and then demanded bribes from them. Some of those same organizations thought their superior ends justified the lowly means of bribery."

"We also intend to present hundreds of phone calls recorded in secret that prove the criminality of those indicted—to prove they knew they were accepting bribes," the attorney concluded.

Yoav Gardos, the Treasury's deputy budget director, testified as to the manner in which coalition funds are allocated. He said he was tasked with presiding over funds provided to Yisrael Beytenu over the course of several years, during which—he claimed—he had seen no evidence of illegality or even irregularity.