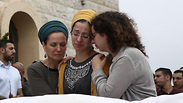 Ben-Gal's widow, Miriam, supported by relatives
Photo: TPS
Terror victim laid to rest: 'No lowly murderer can weaken us'
Some 1,300 people come to accompany Rabbi Itamar Ben-Gal, who was murdered in a terror attack in Ariel, to his final resting place in Har Brakha; 'We will build another neighborhood and another home and another synagogue. We will make Har Brakha a city in Israel,' vows settlement head.
Some 1,300 people—family members, friends and supporters—gathered at the Har Brakha settlement Tuesday to accompany Rabbi Itamar Ben-Gal, who was murdered in a terror attack in Ariel the previous day, to his final resting place.

Ben-Gal's family members wept as his widow, Miriam, had to be physically supported by two relatives.

"I want to promise you that we will be strong," Miriam said. "I will continue raising our children, and we will live with joy, like you wanted."



"We received a precious gift some 30 years ago, and today we part with this gift with much grief," said Daniel Ben-Gal, Itamar's father. "We have no idea how to continue without you, without your smile, without your good face, always radiating with joy. Your joy of educating the next generation in Israel has lit up your face."

"My dear son, don't worry. We will continue supporting your young, sweet children until they get to build their own homes in Israel. The damned, whose wicked plan is to stop the settlement enterprise, will not succeed," the father vowed.

"Rabbi Itamar, our friend, our beloved. We accompany you here—the family, the community, the yeshiva, the Samaria and the people of Israel. An incomprehensible feeling of pain burns inside us," eulogized Yoni HaIsraeli, the head of Har Brakha.

"You were a young man, strong and energetic, full of life and vitality, loved by all. You were strong and healthy and always with a massive smile. You dedicated your life to education, the studying of the Torah and settling the country," HaIsraeli described Ben-Gal.

"Despite the pain, your family is strong and so is the community, and no cowardly and lowly murder can weaken us. Those who think they can weaken us, (should know) this murder only strengthens and spurs us on. We will build another neighborhood and another home and another synagogue. We will make Har Brakha a city in Israel," he vowed.

Eliezer Melamed, the rabbi of Har Brakha, also eulogized Ben-Gal. "All of a sudden Miriam is a widow and the children are orphans. His death, because he was Jewish, made Itamar a saint," he said.

"You haven't reached the age of 30, but you started realizing your dreams," Melamed told Ben-Gal. "You were able to get young men excited about the Torah's prophecies. We expected you to continue teaching Torah, and we were sure you would become the head of the yeshiva," he added.



Knesset Speaker Yuli Edelstein, who was attended the funeral, quoted from the Book of Micah, lamenting the loss of "The faithful (who) have been swept from the land."

"We lost Rabbi Itamar, who dedicated his entire life to education, and lit up the world with his grace," Edelstein said.

"The lowly terrorist who snuck on Rabbi Itamar yesterday didn't know him and didn't know who he was stabbing the knife in, but anyone who knows Itamar knows what the terrorist saw. He saw light," the Knesset speaker went on to say. "They say a lone terrorist kills for no reason, but this wasn't for no reason. He wanted to wipe off his (Ben-Gal) smile. This is our enemies' desire, to cut us from this land."

The terror cell that murdered Rabbi Raziel Shevah, who knew Ben-Gal, "hoped to ruin the settlement in Havat Gilad. Itamar's killer wanted to turn off the light here and in Itamar's eyes. But they won't succeed," Edelstein vowed.

Yossi Dagan, the head of the Samaria Regional Council, attacked the government, saying "We demand answers from the government. It cannot be that deterrence has been lost. I call on the prime minister to recognize Har Brakha as a city."

Meanwhile, US Ambassador to Israel Daniel Friedman slammed the Palestinian leadership for the attack. "20 years ago I gave an ambulance to Har Brakha hoping it would be used to deliver healthy babies. Instead, a man from Har Brakha was just murdered by a terrorist, leaving behind a wife and four children. Palestinian 'leaders' have praised the killer. Praying for the Ben Gal family," Friedman wrote.

Ben-Gal was murdered while on his way to a brit milah ceremony for his wife's nephew.

"I lost my husband on the lands of the Land of Israel. He was murdered because he was Jewish," his widow, Miriam, said on Monday. "I'm here at my home, a home he will not return to. We will bury him here in Har Brakha, the community he so loved and wanted to develop."