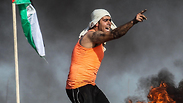 Riots near Gaza border fence
Photo: AFP
War isn't on our doorstep just yet
Analysis: Iran and Hezbollah are taking Israel's threats seriously, and Hamas has no interest in escalation at this time either; despite the growing tensions on Israel's northern and southern borders, a senior security source tells Ynet: 'We aren't any closer to war than we were a month or two ago.'
The winds of war, which began blowing several weeks ago, have raised the level of restlessness among the Israeli public. At first, there were warnings of a humanitarian crisis in the Gaza Strip which could lead to an escalation in the south, and then Israel warned that Lebanon could be destroyed over the precision-guided missile factories that Iran is trying to build there for Hezbollah.

These are not empty warnings, and the IDF is making hectic and real preparations to deal with the different lines of escalation, but war isn't at our doorstep just yet, at least according to all the relevant sources in the defense establishment and the intelligence community. This is also what IDF Chief of Staff Lieutenant-General Gadi Eisenkot said earlier this week to the ministers of the government he is subject to by law.

A security source told Ynet, "We are hearing the sounds of war in the north and in the south, the situation is explosive, but we are doing everything in our power to prevent a war, and we aren't any closer to war than we were a month or two ago."

This statement summarizes in one sentence the current reality, in which the Israeli intelligence community recently detected the emergence of serious strategic threats to Israel by Iran, Hezbollah, Syria, Hamas and the Palestinian Islamic Jihad. Some of these threats are new, and some we are already familiar with. To prevent these threats from materializing, Israel's diplomatic and military system was enlisted for a concentrated diplomatic-PR effort to deter the threatening elements and use international leverages of influence against them (like Russian President Vladimir Putin, for example). That's, briefly, the whole story.

There are still no Shiite militia fighters near the Golan Heights border, Hezbollah doesn't have a considerable number of precision-guided missiles yet, and there are no Iranian factories for improving the accuracy level of surface-to-surface missiles and rockets—neither in Syria nor in Lebanon. There are, however, preparations and attempts by the Iranian Quds Force and Hezbollah to build such a "factory" in Lebanon, after a similar factory was destroyed in a bombing in Syria. The Iranians believe Israel won't dare strike in Lebanon for fear Hezbollah will respond by firing missiles and lead to war.

The Iranians and Hezbollah believe Israel is afraid of such a war because of the destruction it could cause on the home front. They believe there is mutual deterrence between Israel and Hezbollah, which allows them to fearlessly build the "missile accuracy improvement factories" in Lebanon.

Israel's political-security establishment, however, is making it clear to the Iranians and Hezbollah that their assessment is wrong: "We have red lines, and if precision missile factories are built in Lebanon, or if we detect Shiite militias in the Syrian Golan Heights, we'll act to remove the threat without any hesitations, even if this leads to an escalation and war. If there is an escalation, we'll act immediately, with full force. Unlike you, Israel is already prepared, right now, to defend itself with offensive and defensive means, and your side stands to suffer from the results of that war, much more than Israel would suffer. So you better think very carefully if you want Lebanon to return to the Stone Age for the sake of a precision-improvement factory."

These messages were intensively conveyed by Israel on a variety of channels, in a letter published by the IDF spokesperson in Arab media outlets, as well as in Defense Minister Avigdor Lieberman's speeches and in a meeting between Prime Minister Benjamin Netanyahu and Russian President Putin.

There are quite a few signs that Iran and Hezbollah are taking Israel's threatening messages seriously, and there are a few good reasons for that: In May, Lebanon will hold general elections; Hezbollah, which is currently running the Lebanese state, could suffer a political loss if it is defeated and Lebanon is ruined as a result of a war in Israel. The Sunni prime minister, Saad Hariri, whose resignation was rejected by Hezbollah, will make sure the next elections aren't held on the ruins of Lebanon's infrastrctures. Furthermore, Hezbollah has yet to return the fighters from its elite units from Syria.

The Iranians, even the Revolutionary Guards and the radical conservatives, can't afford a war in Lebanon now. In light of the grave economic situation of large parts of the Iranian population, which has sent dozens of protestors to the streets, supreme leader Ali Khamenei will think twice before giving Hezbollah the green light to escalate the situation. He knows Hezbollah leader Hassan Nasrallah will demand that he fund Lebanon's reconstruction, just like he did after the Second Lebanon War.

The Iranians are now focused on expanding their presence and influence in Syria as a regional power. A war in the north could thwart the achievements they have made so far. Furthermore, they want to gain from rebuilding Syria, and a war in Lebanon would thwart that too.

The Kremlin is also interested in maintaining the quiet in Syria and Lebanon. Russia wishes to maintain stability and bring about a political arrangement in Syria, which would serve Putin's economic and strategic interests in light of the upcoming elections he is facing in March.

All the restraining elements on the northern front are faced by only one semi-explosive element in the region—the obstacle being built by Israel on the Lebanon border. It is made up of two segments of walls, 5-7 kilometers long and 9 meters high, one in the western area and one in the Misgav Am area. Their purpose is to prevent Hezbollah's special force from directly attacking Israeli communities near the border in those areas in an attempt to occupy them for a limited period of time and gain a perceptual victory.

The Defense Ministry is building the wall segments on Israeli sovereign territory, on the Blue Line, which has been approved by the United Nations as the border. But the Lebanese army, inspired by Hezbollah, argued in a complaint submitted to the UN Interim Force in Lebanon (UNIFIL) that Israel was building the obstacle on "disputed territory." Israel made it clear to UNIFIL and to the Lebanese army that it would keep building the obstacle regardless of the unjustified Lebanese claims. IDF officials believe the Lebanese army may try to disrupt the work by firing at the area and that Hezbollah may plant explosive devices there.
A highly explosive threat in Gaza
While the Iran-Hezbollah threat is considered by the defense establishment as the most serious threat to Israel at the moment, the Palestinian threat—the Gazan threat, to be exact—is considered highly explosive. In other words, it has the highest likelihood of materializing and leading to war.

This is more or less what Eisenkot told the government ministers during his briefing. He recommended that Israel make an effort to prevent the humanitarian crisis in Gaza. Ynet reported that the chief of staff made a distinction between "Gaza's reconstruction"—an extensive, strategic move which Eisenkot believes should be made only after Hamas returns to bodies of IDF fighters Hadar Goldin and Oron Shaul—and "humanitarian aid"—aimed at preventing an extensive humanitarian disaster among the strip's residents, which Israel would have to deal with, and which the world would hold Israel accountable for.

Such a disaster could lead to escalation, either when Hamas reaches the conclusion that it has nothing to lose or when thousands of Gazans run to the fences separating the strip from the Israeli border communities and cross them in a desperate attempt to solve their distress. The IDF would have to stop them, there will be casualties, and we would find ourselves in a war that could possibly expand to the north. Defense Minister Lieberman has already hinted that Hamas is making attempts to establish terror infrastructure in the north, and Hezbollah could join the fighting alongside the Palestinians in case of a high death toll in Gaza.

Granted, Hamas and Islamic Jihad have no interest in an escalation at this time. Having no ally and external financial and political support, they know the next war with Israel could bring their rule in the strip to an end. Furthermore, they are unprepared for such a battle militarily and know they are losing their infiltration tunnels. There are signs that Hamas has come to an understanding that the cross-border tunnel affair is over. Having said that, they still have rockets, quadcopters and UAVs and special forces, which could inflict death and destruction in the Israeli border communities, disrupt the Israeli routine and damage infrastrcture.

Hamas understands that the IDF would enter the strip and hopes to claim a bloody price from the Israeli army and have Nuhba fighters come out of tunnels within the strip and kidnap soldiers. In those tunnels, Hamas is also sheltering the rockets and mortar shells, which they will keep firing at Israel as long as the tunnels aren't destroyed.

The Gazan threat allegedly seems far, but it is more likely to materialize than the northern threat. The IDF's Intelligence Directorate has warned, therefore, that "the explosive potential in 2018 is higher than in the previous year"—that's all. So in the meantime, we can stop stressing out but make sure that our shelters are in order.