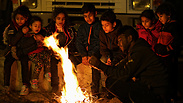 Palestinians waiting near Rafah Crossing
Photo: EPA
Qatari envoy urges world to aid Gaza
Fearing the worsening humanitarian situation in Gaza could lead to increased tensions and violence, the head of Qatar's Gaza reconstruction committee calls on world's nations to pitch in and help the people of the strip—leading by example with a $9 million aid pledge.
A Qatari envoy on Thursday called on the international community to send aid to the people of the Gaza Strip, saying the dire conditions in the territory could potentially spill over into renewed violence.

In an interview, Mohammed Al-Emadi, the head of Qatar's Gaza reconstruction committee, said he hopes that his country's support for the territory, highlighted by a $9 million pledge on Thursday, will encourage other nations to join the effort. He also shined rare light on his working relationship with Israel, which does not have formal diplomatic relations with the energy-rich Gulf state.

"When you want to do work in Gaza, you have to go through the Israelis," he said. "Without the help of Israel, nothing happens."

Since a 2014 war between Israel and Gaza's Hamas rulers, known as Operation Protective Edge, Qatar has been a leading player in internationally backed reconstruction efforts.

Under Al-Emadi's supervision, Qatar has poured hundreds of millions of dollars into large-scale projects, including a new highway, state-of-the-art rehabilitation hospital and high-rise housing. Al-Emadi, an architect, has been a frequent visitor to personally oversee some of the work. He is expected to return later this month.

Despite reconstruction efforts, conditions have continued to deteriorate amid the failure by Hamas and the rival Fatah faction to reconcile, deadlock in Israeli-Palestinian peace talks, continuing militant activity by Hamas and the effects of a decade-long Israeli and Egyptian blockade imposed after Hamas seized power in 2007.

Unemployment is well over 40 percent, tap water is no longer drinkable and residents receive only a few hours of electricity a day. US cuts in funding to the UN agency for Palestinian refugees, which serves more than half of Gaza's people, have threatened to worsen the situation.

Israeli and international officials have warned in recent weeks that the territory is on the brink of a humanitarian catastrophe—a message that was echoed by Al-Emadi.

He said the priority right now must be for donor nations to provide humanitarian aid to Gaza. On Thursday, Qatar said it was sending $9 million for food, fuel and medicines. But he also encouraged donor nations to respond to Israeli appeals to fund larger-scale projects for Gaza, such as a long-delayed electricity line.

"We have to fund as soon as possible," he said.

Al-Emadi said his work is professional, not political, but said the world cannot neglect Gaza while lingering political disputes fester. "This is part of our effort, working very closely with Israel, very closely with everyone in Gaza, to prevent any more escalation and war. We want peace in the region, and to help the people."

Under a system set up after the 2014 war, reconstruction materials are delivered to Gaza through an Israeli-controlled border crossing. The Palestinian Authority in the West Bank coordinates the projects, Israeli security officials approve the entry of materials and the UN monitors the deliveries to make sure they are not diverted by militants.

Over the years, Al-Emadi said he has developed a cordial relationship with his Israeli counterpart, Maj. Gen. Yoav Mordechai. "You can say it's good," he said.

But he said the motives were pragmatic. "To help the people of Gaza, this is our only target and aim," he said.