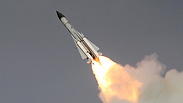 While the armed forces of the Syrian regime have been suffering from 7 years of brutal war, there is one aspect of the military that has not only preserved its strength, but was even bolstered and became far deadlier—its air defense capabilities.

It was reported Saturday that the pilots in the downed F-16 did not have time to even report the incident over the communications network. This is evidence of the closing speed of the Syrian anti-aircraft missiles which intercepted it.


The number of missiles fired by the Syrian forces was large, about 20, from two batteries: one firing SA-5 missiles and the other SA-17 missiles—both of which were targeted in the Israeli strike.

The SA-17 Grizzly is considered to be the advanced missiles possessed by the Syrian air defense forces, and was supposed to be supplied to Hezbollah's air defense battalion, but this operation was thwarted several years ago in an attack attributed to the Israeli Air Force.

It is a portable anti-aircraft missile capable of ranges up to 150 kilometers and is designed to hit fighter planes with good maneuverability, such as the F-16.

The SA-5 Gammon is a larger missile, with a larger range of about 300 kilometers, and was originally built to deal with relatively large western warplanes with difficulty maneuvering.

This is not the first time Syrian forces fired at Israeli jets when they acted against Hezbollah's buildup, as anti-aircraft shootings such as the one on Saturday occurred dozens of times in recent years, though in most cases failed to endanger the planes.

"The Syrian army took hit a hit in almost all its systems, suffered casualties and desertions, but made sure to equip and renew its anti-aircraft system at all times, even at the height of the fighting," a senior IAF officer told Ynet earlier this year, emphasizing that the army mainly fought ground forces.

"Our level of alertness and capability in the northern arena is increasing," he said. "The (Syrian army) was working to close the gap of aerial superiority, and sometimes we felt that it was close to doing so, but today their capabilities are on a completely different level."
'Facing experienced army supported by two superpowers'
Now the Syrian defense system has a variety of modern antiaircraft capabilities, which were supplied to it in recent years courtesy of Russia. It is evidence that although the rebels have almost overthrown Assad, he still sees the IDF as his main enemy—future and present.

Top-of-the-line anti-aircraft systems such as the SA-300 have not yet reached the Syrian army despite a deal that has been in limbo for years, partly due to Israeli pressure.

Most anti-aircraft missiles, such as surface-to-air missiles, are not intended to hit targets on the ground, such as bases or towns. Up until Saturday, most Syrian anti-aircraft missiles fired at Israeli warplanes exploded in mid-air, with their fragments scattered across the northern region of the country.

The battle against air defense systems is one to be fought by the whole army and not by the pilot alone," said F-16 pilot Col. (res.) Neri Yarkoni.

"We are facing an experienced and intelligent opponent. This was not an attack on rebel forces or on ISIS. It is a large, experienced army supported by two superpowers, Russia and Iran.

"In general, when you work again and again in this arena, you shouldn't be so surprised when such an event occurs. Anyone who thinks that we will do so much without getting hit back once or twice is mistaken.

"We are in a war over the skies. We set our red lines and on Saturday they defined their own."

Regarding Saturday's incident, Col. Yarkoni noted that the pilot has preliminary intelligence about anti-aircraft missiles that may be launched against him in addition to intelligence he receives while in flight, but stressed that there's a big difference between being targeted by only one or two missiles and being assaulted with entire missile batteries.