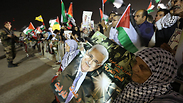 Palestinians celebrate a 2013 prisoner release
Photo: Gil Yohanan
In prison I understood Israelis want peace, says released Palestinian murderer
In a special series of interviews, terrorists who were released in 2013 as part of an Israeli gesture to PA President Abbas tell Ynet about the murders they committed before the Oslo Agreements were signed, the 'Israelization' process they went through in jail and the impact of the second intifada; 'When I heard about the Sbarro attack, I cried,' one of them says.
In 2013, the American administration led by President Barack Obama and Secretary of State John Kerry placed heavy pressure on Israel and the Palestinian Authority to return to the negotiating table after three years of an almost complete diplomatic stalemate.

After great effort, the United States managed to reach the following understandings: Palestinian Authority (PA) President Mahmoud Abbas promised to halt his unilateral moves, which included appeals to the United Nations' institutions and international organizations, while Prime Minister Benjamin Netanyahu promised to release 104 prisoners in four stages over a nine-month negotiation period.

The released Palestinians were long-time prisoners who murdered Israelis or had been members of cells that murdered Israelis and who had been jailed before the Oslo Agreements were signed.

Seventy-six prisoners were released in three of the four stages. The fourth stage was never implemented, as the talks reached a dead-end. Israel and the Palestinians have not returned to the negotiating table since.

Most of the released prisoners returned to their homes in the West Bank, creating a rare opportunity for in-depth interviews without any external mediation or supervision. These prisoners spent decades in Israeli prisons, where they experienced historic events related to the Israeli-Palestinian conflict: the signing of the Oslo Agreements, the second intifada, PA Chairman Yasser Arafat's death, Abbas's rise to power, Hamas's takeover of Gaza, the kidnapping of IDF soldier Gilad Shalit and Operations Cast Lead and Protective Edge.

From behind bars, through television sets that were always turned on, they also watched the events that divided the Israeli society, like Prime Minister Yitzhak Rabin's murder, the social protests of 2011 and, of course, the Shalit deal and the public campaign for the soldier's release that preceded it.

We interviewed them over several months, shortly after their release. They agreed to open up and share the impact these events had on their life in prison, the feeling that they had been left behind, the change they went through in jail (which pushed them to support peace), the hostility between Fatah and Hamas (which climaxed with the Shalit deal), the prisoners' brutal punishment system against fellow inmates who violated the prison's internal code, the "Israelization" process they underwent over the years, their regrets, and more.
'I wanted to get to know Israelis'
When Ziad Ghanimat of the village of Surif began serving his prison term in 1985, he couldn't speak one word of Hebrew. He was 23 years old when he was convicted—together with his relative, Mustafa Ghanimat—of murdering Meir Ben Yair and Michal Cohen in the Massuah Forest near Beit Shemesh. He was released in the second stage, after 28 years in prison. Today, he speaks fluent Hebrew with hardly any accent.

"I learned Hebrew within three months," he says. "One of my friends in the cell taught me, and then I got a subscription to Yedioth Ahronoth. Hebrew helped us in jail."

How did it help?

"It helped us get along with the wardens. Then I started reading books. Amos Oz, for example, and (former Shin Bet chief and minister) Yaakov Peri's book too."

Why Amos Oz?

"I liked him because he tells stories about Israeli society and you get to understand Israeli society. You understand that they are people who want peace."

Yusuf Arshid of the village of Sir, near Jenin, worked in Israel before the first intifada. He spoke basic Hebrew, but knew nothing about Israelis. He was imprisoned seven months before the Oslo Agreements were signed, after being wanted for a while for the murder of Palestinians who had collaborated with Israel.

"In prison, I learned to read and write in Hebrew," he says. "We brought in books through our families and studied on our own. I studied Arab history and Israeli history. Alone, not through academic studies. I wanted to get to know Israelis."

Television is a very important tool for prisoners. Apart from the daily newspapers, it is their source for news updates in Hebrew and Arabic. Each cell has a television set, and the prisoners can watch Israeli commercial channels, a Lebanese channel and a Saudi channel, as well as al-Jazeera, Al-Arabiya and the PA-owned Palestinian channel. Surprisingly, the security prisoners clearly prefer the Israeli channels.

Which channel is on most of the time?

"Channel 2 and Channel 10."

Why?

"We believe they give the truth."

So the prisoners watch the news every evening at 8?

"Every day."

Ghanimat describes a similar reality: "We always watched the news. At 8pm, Channel 2 and Channel 10. We preferred Channel 2. They were stronger and they have commentators like Amnon (Abramovich)."

What do you think about Roni Daniel (Channel 2's military correspondent)?

"That he thinks he's prime minister and defense minister," Ghanimat replies, laughing.

The television isn't just for news, however. It also helps the security prisoners escape reality by watching popular Israeli television shows.

Were there any television programs you liked?

"Master Chef. I watch Channel 2 at home too. We also watched Big Brother and several other shows. Big Brother once had Futna (Israeli Arab contender Futna Jabar). We rooted for her."
Disappointed by social protests
Throughout their long years in prison, security prisoners were thoroughly introduced—willingly or unwillingly—to Israeli society, its complexity and its different shades, which are more than just black or white.

"In prison, we are more interested in Israeli society. It begins with the friction with the wardens and management, as well as with the Israeli media," says Esmat Mansour, who took part in the 1993 murder of Haim Mizrahi in Beit El. "In prison, you start learning Hebrew. You don't have to do it, but you'll feel you'll be missing out on something if you don't learn Hebrew, so you try to get it done.

"These things give you a direct view of the Israeli society," Mansour adds. "You don't just see soldiers and tanks. You start seeing Israeli society's distress, the crises, the rifts, the Knesset, the governments, the different shades of society, the political pluralism. All these things give you the feeling that you're facing a society that is different from what you knew before, and you can even see shared aspects. You begin to understand that you can build ties and that it's not an entirely black and hostile picture."

Mansour says the security prisoners were intrigued by the social protests that took place in Israel in the summer of 2011. "We were very interested in your protests," he says. "At the time, we had the Arab Spring, and we were expecting an Israeli spring too. We were disappointed by the fact that these protests lacked the most important element affecting the Israeli society—the occupation. There wasn't a single slogan linking Israeli distress and crisis to the occupation. Having said that, we did see a sign of change in Israel's social protests. We said to ourselves that if it succeeded, it would lead to deeper changes that would also affect us as Palestinians."

Mansour offers surprising insights about Israeli society: "If a young and Leftist leadership arrives, actually I won't call it 'Leftist' because you're very sensitive about that term. I have seen how the word 'Leftist' turned into a curse over there, so I won't say 'Leftist leadership' but a leadership that believes in justice. How can you protest for your rights as a human being while oppressing another people?"
Apologizing to victims' families
Almost every prisoner interviewed for this series of articles served time in prison for murdering Israelis or for being part of a cell that murdered Israelis. After the Oslo Agreements, they gradually underwent a change that pushed them to support a peace agreement with Israel from their prison cells. Later on, they watched it all fall apart with the breakout of the second intifada and the increase in suicide bombings in Israel, which were mostly directed at civilian targets. Some of the attacks left a deep impression on them.

"When the terror attack at the Sbarro restaurant (in Jerusalem) took place, I swear I cried," says Mudqaq Salah, who murdered 72-year-old hotel security guard Israel Tenenbaum in 1993 by hitting him in the head with a metal rod. "I saw them crying and I started crying myself. I said to myself that if the attack were against my family sitting at the table, it would be the same thing. It's hard to see an entire family disappear, it's hard. Why is there no justice? It was the same with the attack at the Park Hotel in Netanya."

"You won't find a single long-time Fatah prisoner who will tell you he was happy to see a bus exploding," says Mustafa al-Haj, who murdered Friedrich Rosenfeld in 1989. "No one was happy when children and elderly people were killed on the streets and in the cities."

Rosenfeld was murdered while hiking on the hills near Ariel. He ran into a group of shepherds who grabbed a knife he had and stabbed him to death. The murderers hid his body on the side of the road.

Ziad Ghanimat says the prisoners weren't surprised by the escalation of the second intifada. "If a person wakes up in the morning and hears that his brother was killed for no reason, he will want to respond. Those were very difficult times. You can't just ignore it. It's the killing of women and children. When there was a major attack, we would turn off the television and avoid watching it."

Weren't there people who supported the attacks?

"There were, but they were the minority. There were people who were happy, but if one or two people are happy—do they represent everyone?"

After terror attacks, would you talk about it?

"Yes, there were long conversations in the cells. People wondered how long it would last and what we would gain from it. But there were also people who were in favor of the suicide bombings."

Was there an attack you personally remember?

"There were a few incidents. I'll mention the children who were murdered in the settlement of Itamar near Nablus (the Fogel family massacre). We had nothing to say. They're small children, after all. It was difficult. No one accepted it. Sometimes we were silent, unable to talk. What could we say?"

Are you able to say to yourself today that you murdered human beings?

"I find it very difficult. I'm not happy about it, but at night I sometimes think about it. It's very hard. At the end of the day, I took a person's life."

Would you agree to meet their families?

"It's mentally difficult, but if they agree—I'll explain my stance to them. I'm sure they won't agree."

Mudqaq Salah asked to convey a message to the family of his victim, Israel Tenenbaum: "I'm sorry. I wasn't normal when I did it. I wasn't calm. I did it out of nerves. I would like to apologize to the Tenenbaum family. I know there's no chance they'll forgive me. I know it's hard for them."

"Anyone can kill a person," says Esmat Mansour. "It's easier to do something that leads to a lot of disasters. There's no heroism in it. When I was invited to celebrate (my) departure from prison, I was presented as a hero who did this and that. I don't identify with that or feel connected to it in any way.

"It's what I'm trying to convey to our side, to our youth. They see what we did as heroism, and I tell them that sitting in prison isn't heroism. Sitting in prison isn't unusual, but coming out of prison with this kind of perception is unusual. You have to come out without any frustration and you have to move on. That's heroism as I see it."