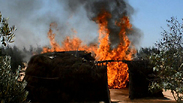 Egyptian army operations against IS in Sinai
Egypt: IS looking to Sinai for new home base
Egyptian army began widespread operation against Islamic State in Sinai Peninsula last week, which has thus far led to death of 53 jihadists, capture of 680 people; intelligence shows IS looks to Sinai for new home base, after suffering defeats in Iraq, Syria.
After crushing blows in Iraq and Syria, global jihadists could be eyeing Egypt's Sinai Peninsula as a new home base, the army said Thursday, as it presses an offensive in the region.

Cairo last week announced a major operation against jihadists across swathes of territory, including the volatile region which has been at the heart of a persistent Islamic State (IS) group insurgency.

The Egyptian army's extensive operation against IS in Sinai

The security sweep in the Sinai, Nile Delta and Western Desert near the border with Libya comes as the country prepares for polls next month in which President Abdel Fattah al-Sisi is seeking re-election.

Army spokesman Tamer el-Refai said at a press conference broadcast Thursday that intelligence showed that jihadists were planning "to create a new terrorist home base in another area that could potentially be the Sinai Peninsula".

The spokesman told a tightly controlled press conference that 53 jihadists have been killed since the start of the operation, while more than 680 people have been detained.

The security operation, which involves the army, navy, air force and police, began last Friday and targeted "terrorist and criminal elements and organizations" in north and central Sinai, parts of the Nile delta and the western desert, Colonel al-Rifai said Thursday.

Rifai added forces have destroyed over 1000 kg (2205 lbs) of explosives, 378 militant hideouts and weapon storage facilities including a media center used by the militants.

The air force, which has carried out more than one hundred airstrikes in northern and central Sinai since the operation began, has focused on militant hideouts outside residential areas to avoid hitting civilians, air force Brigadier General Alaa Dawara said.

In November, Sisi ordered his armed forces chief of staff to restore security in Sinai within three months after terorrists carrying IS banners killed more than 300 worshippers at a mosque.

The attack was the deadliest of its kind in Egypt, which is the Arab world's most populous country and a main regional ally of the United States.

Egypt has been under a state of emergency since April last year, after two suicide bombings at churches claimed by IS killed at least 45 people in the cities of Tanta and Alexandria.

Reuters contributed to this report.