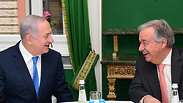 PM Netanyahu (L) with UNSG Guterres
Photo: Amos Ben Gershom/GPO
Prime Minister Benjamin Netanyahu on Friday told United Nations Secretary General Antonio Guterres that the Golan Heights would remain in Israel's hands forever, reiterating his position that Israel will do what is necessary to protest its northern border.

In talks at the Munich Security Conference over recent regional tensions, especially concerning Iran and its entrenchment efforts in Lebanon and Syria, the prime minister said that Israel would not allow Iran to establish a military presence within Israel's northern neighbors and added that Israel would act against any Iranian attempt to build bases in Syria.

Netanyahu then thanked UNSG Guterres for holding an informal UN Security Council discussion on the IDF fallen and Israeli civilians being held by Hamas and said that there must be additional determined action on this issue.

At the conference, Netanyahu also met with Austrian Chancellor Sebastian Kurz for the first time against their backdrop of Israel's boycott of the far-right Freedom Party (FPO), members of Kurtz's coalition, over their anti-Semitic characteristics.

Netanyahu said Kurz told him about "the steps his country is making against anti-Semitism and for the sake of the State of Israel," adding that the chancellor "intends to change Austria's voting patterns at the UN and support Israel's candidacy for the Security Council should we submit it."

Israel maintains working relations with the professional echelons of the ministries headed by ministers from the Freedom Party, but not with the ministers themselves.

Kurz noted in the past that he would do everything to persuade Israel to change its position on the party, which vowed to leave its Nazi past behind.