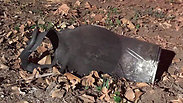 File Photo
Photo: Police Spokesmanship
A Code Red alert sounded Sunday evening in Sderot and several towns in the Sha'ar HaNegev Regional Council after rocket fire from the Gaza Strip was spotted, only hours after an earlier rocket landed on the roof of a residence of the region.

The rocket exploded in an open area in the Sha'ar HaNegev Regional Council. There were no casualties and no damage was done.



It was only the day before when two soldiers were seriously wounded and two others moderately and lightly wounded when an explosive device was set off near an IDF patrol around the border fence in the southern Gaza Strip, opposite the Ein HaShlosha kibbutz.

The IDF's retaliation came shortly after, as 18 terror targets in the Gaza Strip were struck overnight, just hours after the Israeli Air Force attacked six Hamas targets all across the Gaza Strip, including an offensive tunnel running from the Zaytun neighborhood in Gaza towards Israel.

Returning fire, a rocket launched from the strip landed on the roof of a residence in the Sha'ar HaNegev Regional Council. The family was home, but no one was harmed as the rocket failed to explode.

In the wake of the attack, GOC Southern Command Maj. Gen. Eyal Zamir threatened Hamas, saying that "anyone seeking to undermine Israel's security will be met with a determined response.

"We have considerable power and will not hesitate to exercise it as needed, despite our desire to maintain stability and avoid escalation."

Zamir then reiterated the army's longstanding position of holding Hamas accountable for anything transpiring within Gaza "above and below ground, (Hamas) is responsible for the lives of Gaza's people."