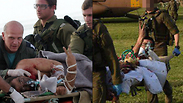 Major Bohadana (L) and Emanuel Zerah
Photo: Elad Gershgoren, Haim Horenstein
Soldier emulates iconic Second Lebanon War photo
Emmanuel Zerah, 22, of Jerusalem flashed photographers the V symbol as he was being wheeled into Soroka Hospital after being seriously wounded when explosive device went off near Gaza border; Combat Engineering officer hurt in attack remains in serious condition; Golani soldier undergoes surgery on his eyes; 'We're praying his eyesight returns to him soon,' his mother says.
Twelve years after Major Tomer Bohadana left his mark on Israel's collective memory by flashing the "V" sign moments before he was rolled into the operating room, Staff Sgt. Emmanuel Zerah, wounded on the Gaza border Saturday, followed in his footsteps by doing the same.

Zerah, 22, a soldier in the Combat Engineering Corps' elite bomb disposal unit, was rushed to the Soroka University Medical Center in Be'er Sheva along with three other soldiers wounded when an explosive device planted near the Gaza border fence detonated as they attempted to inspect it.

When Zerah was taken out of a helicopter on a stretcher, he signaled the V—for victory—sign to cameras before being wheeled into the intensive care unit. He remained in serious condition, suffering from multi-systemic injuries.

Zerah underwent surgery Saturday and was transferred to a recuperation ward, with his family by his side. When they saw his photo, they were greatly moved.

The determination the young man showed in defiantly signaling to the cameras despite his serious injuries came as no surprise to his relatives. Other soldiers and officers arriving to the hospital to visit the wounded heard one of them made the V signal, and immediately said even before seeing the video, "That has to be Emmanuel."

Emmanuel was transferred to the Hadassah Medical Center in Jerusalem's Ein Kerem at the behest of his family, which resides in Jerusalem, and because his father is employed as a doctor there. His condition remains serious.

The officer commanding the bomb disposal team, who was also wounded in the incident, also remains in serious condition. He is still under anesthesia and on ventilator at the ICU.
Company commander's family seasoned with injuries in service
The mother of Capt. Nadav Yifrach, 24, a company commander in Golani's 13th Battalion, recounted Sunday how she learned of her son's injury in the blast. "I was at home in Migdal HaEmek, and he called me to say he got hurt," she said.
Her son was supposed to finish his army posting in about a week and go off to school, his mother said.
"Our eldest was also wounded during his service, so we're seasoned," she added. "He was really lucky, but the most important is that he's okay."
"My son is serious and responsible, he's a real fighter, and he will beat this injury," his father Shimon Yifrach said. "As long as Nadav was talking to us, we weren't panicking. He's a company commander in the exact same battalion our eldest son served in."
Golani fighter Ohad Asayag, a resident of Ashdod, was also wounded in the incident. He underwent hours-long surgeries in his eyes and regained consciousness on Sunday.
"His eyes are very swollen from the injury, and he still can't see anything, but it's too early to tell how serious his injury is. We'll know that in the coming days," his mother Fanny said. "We're praying his eyesight returns to him soon."
At Ohad's bedside on Sunday was also Sarit Vanunu, whose son Ben Vanunu, a Golani fighter and a close friend of Ohad, was killed in battle during Operation Protective Edge. "Ohad knew Ben well, there was a friendship between them. Ben and his family are like our family," Fanny said, adding that her son was inspired by Vanunu to join the Golani Brigade.
An initial inquiry into the incident found that trackers scoured the area, after which Combat Engineering soldiers approached the flag, under cover of the Golani soldiers, at which point the device was set off.
"We received word of casualties on Gaza's perimeter in the afternoon," said Soroka Deputy Director and Head of the Surgery Ward Prof. Gal Ifergan. "Later on two helicopters brought in four soldiers. They underwent an initial assessment, and three of them were taken in for operations."
"All of the wounded were in stable condition and suffered from limb, shrapnel and shockwave wounds, as well as from burns and face wounds, as is typical for injuries caused by explosions. Their lives are not immediately in danger and their families are by their side," he continued.
Prime Minister Benjamin Netanyahu wished the wounded speedy recovery from the Munich Security Conference and said, "The incident near the Gaza border is grave. We will react accordingly."
The IDF Spokesperson's Unit said Hamas terror targets were hit in Gaza, including a terror tunnel running into Israel from the Zaytun neighborhood of Gaza, a military complex on the former grounds of the evacuated Netzarim settlement "belonging to Hamas's unique military alignments, including weapons manufacturing sites." A Hamas military complex near Khan Yunis was also attacked.
Ilana Curiel, Elior Levy, Israel Moskowitz, Matan Tzuri, Lior El Hai and Yael Friedson contributed to this story.