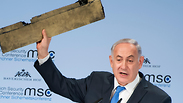 Prime Minister Netanyahu at the Munich Security Conference
Photo: AFP, MSC Munich Security Conference / LENNART PREISS
Iranian official threatens to 'level Tel Aviv to the ground'
Following Netanyahu's threat to take direct action against Tehran if necessary, secretary of Iran's Expediency Council says if Israel carried out 'the slightest unwise move against Iran, we will level Tel Aviv to the ground and will not give any opportunity to Netanyahu to flee.'
The exchange of threats between Israel and Iran continued on Monday in the wake of Prime Minister Benjamin Netanyahu's speech at the Munich Security Conference, with a senior Iranian official saying Tel Aviv would be "leveled to the ground in case of the slightest folly" by Israel.

Netanyahu vowed in his speech Sunday that Israel would act against Iran directly, and not just against its allies in the Middle East, if necessary. The speech was dismissing by Iran's Foreign Minister Mohammad Javad Zarif as a "cartoonish circus."

The secretary of Iran's Expediency Council, Mohsen Rezayee, also downplayed Netanyahu's threats as a "theatrical move and a childish game."

"About Netanyahu's unwise words, I should say that if they carry out the slightest unwise move against Iran, we will level Tel Aviv to the ground and will not give any opportunity to Netanyahu to flee," Rezayee told Hezbollah's TV station Al Manar.

"The US and Israeli leaders don't know Iran and don't understand the power of resistance and therefore, they continuously face defeat," he further claimed.

"Today, the situation of the US and Israel indicates their fear of the Zionist regime's collapse and the US decline," he added.

Tensions between Israel and Iran increased recently over Tehran's efforts to establish a military presence in Syria.

A week and a half ago, matters escalated further when an Iranian drone left an air base in Syria and infiltrated Israeli airspace. The IAF shot down the drone and then attacked 12 Syrian and Iranian targets in Syria. The Syrian responded with dozens of anti-aircraft missiles, one of which exploded near an F-16 fighter jet, bringing the plane down, but not before its pilot and navigator were able to bail out.

"Iran is dragging the entire region into an adventure whose end is shrouded in darkness. It was a grievous violation of Israeli sovereignty by Iran. Anyone involved in the drone's launch was targeted," the IDF said after its attacks in Syria.
Threats from Lebanon
Lebanese army commander General Joseph Aoun also delivered his own threat to Israel on Monday, saying his army will use every available means to confront any potential "Israeli aggression" no matter the cost.

"I affirm again our categorical rejection of the Israeli enemy infringing on Lebanon's sovereignty and its sacred right to exploit all its economic resources," the Lebanese army quoted General Joseph Aoun as saying on Twitter. "The army will not spare any method available to confront any Israeli aggression, whatever that costs."

Tensions between Israel and Lebanon have recently flared up over a border wall being constructed by Israel, a tender issued by Beirut for oil and gas exploration in disputed waters and arms flows to Lebanon's Iran-backed Hezbollah group.

Reuters contributed to this report.