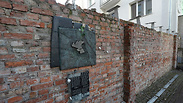 Red brick wall at 53 Sienna Street
Photo: AP
A regional official in Poland wants two fragments of the wall that isolated the Warsaw Ghetto put on a list of historical monuments.
The proposal published on Tuesday says the red brick wall at 53 Sienna Street should be protected as a witness to history and preserved for future generations.
It says monument status would give legal protection to a "unique historical memento, priceless to the Jewish and the Polish nation."
The decision is subject to appeal.
The wall was built in 1940, when the Nazi Germans closed the area of Warsaw they called the "Jewish district." It was four meters (13 feet) high, counting the one meter of barbed wire on top. About 450,000 residents died there or in the Treblinka death camp.
In a separate potential project, Polish Deputy Culture Minister Jaroslaw Sellin on Tuesday backed a call for building a "Polokaust" museum to commemorate Poles killed by the Nazis during World War Two, in comments that may further exacerbate tensions with Israel.
This month Poland sparked international criticism, including from Israel and the United States, when it approved a law that imposes jail terms for suggesting the country was complicit in the Holocaust.
Relations became increasingly icy when Polish Prime Minister Mateusz Morawiecki pointed to "Jewish perpetrators" he said were complicit in the Holocaust.
Reuters contributed to this report.