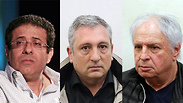 L-R: Ilan Yeshua, Nir Hefetz and Shaul Elovitch
Photo: Orel Cohen, Amit Sha'al and Motti Kimchi
The Walla! News website CEO Ilan Yeshua was forced to confront by police the former media adviser to Prime Minister Benjamin Netanyahu Nir Hefetz, and Bezeq majority shareholder Shaul Elovitch as part of the ongoing corruption investigation involving the prime minister.

Yeshua has already provided testimony several times in the case, also known as Case 4000, which involves a quid pro quo relationship entangling them in a quid pro quo relationship that saw benefits given to the website in exchange for more favorable coverage of the prime minister and his family.

According to Yeshua, Elovitch was the individual who gave the order to provide more favorable coverage for the Netanyahu family and connected him with Hefetz.

Yeshua confirmed for his investigators that Hefetz was the mediator in the Prime Minister's Office and that Elovitch asked him to be in contact with him.


Police investigators brought Elovitch into the interrogation room and asked Yeshua, among other things, to repeat his testimony, according to which Elovitch gave the explicit order to portray the Netanyahu family in a more positive light.

During the exchange, police presented Hefetz with the claims that Yeshua had made in his testimony and asked him if they were true.

"Everything I have to say I answered you in the open testimony," he responded in the Lahav 443 fraud investigation unit in Lod next to the investigators from the Israel Police and the Israel Securities Authority.

Elovitch is suspected of bribery, fraud and breach of trust. Hefetz is suspected in Case 4000 of taking bribes and obstructing justice.

On Wednesday afternoon, the Tel Aviv Magistrates' Court extended the remand of Bezeq CEO Stella Handler's and the company's Strategy and Business Development Manager Amikam Shorer by six days each.

"Now that the gag order has been removed, I can say unequivocally that this case raises reasonable suspicion and is based on even more serious corruption, everyone with his share, everyone with his own condition," said Judge Ronit Pozanski-Katz when extending the remand.

"The acts were allegedly carried out by senior officials in the government and Bezeq," she said.

Handler, who was expected to be brought to trial after the first part of the case, was arrested on Sunday on suspicion of giving bribes, Offenses under the Securities Law, fraud, disrupting legal process and breach of trust.

Suspended Communications Ministry Director-General Shlomo Filber, in custody until at least Thursday as part of the investigation, was brought to the offices of the police's Lahav 433 anti-corruption unit Wednesday morning to provide testimony for the first time since signing a state's witness agreement.