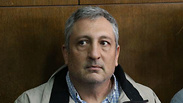 Nir Hefetz in court
Photo: Yaron Brener
PM's former advisor refusing to cooperate with investigators
Israel Securities Authority representative tells Tel Aviv Magistrates' Court during remand hearing that Nir Hefetz, who is suspected of offering a bribe to a judge, has kept silent throughout interrogations; Hefetz to remain in custody until Sunday.
An Israel Securities Authority (ISA) representative told the Tel Aviv Magistrates' Court during a remand hearing Thursday that Nir Hefetz, Prime Minister Benjamin Netanyahu's former media advisor, was failing to cooperate with his investigators and remaining silent throughout his questioning.

Hefetz, who was allegedly involved in the Bezeq affair (Case 4000), is also suspected of trying to bribe former District Court president judge Hila Gerstl into tossing out an investigation against Sara Netanyahu in return for being appointed attorney general. Hefetz will remain in custody until Sunday for his part in the Gerstl affair and until Monday for his part in the Bezeq affair.

The media consultant, who is suspected of taking bribes and of obstruction of justice, complained to the Israel Prisons Service (IPS) about his arrest conditions.

"There was a fight between prisoners in the cell, which was an hour or two that I couldn't sleep," Hefetz said. "I woke up in the morning with hundreds of flea bites, and my entire body was covered in blisters. When I got to the interrogation this morning, I asked for a doctor so I could can get a salve. The answer I got was 'You don't die from this. You'll get treatment from the IPS.' I had hundreds of blisters in my hands and body, and I cannot believe the criterion to see a doctor is when your life is at risk."

He spoke of another incident, in which he was apparently recognized by security prisoners. "On Sunday when I was arrested, I got to one of the IPS facilities at night. There, I don't know how, I was apparently recognized by security prisoners from Gaza and a commotion erupted. I heard shouting in Arabic, the name 'Netanyahu,' and there was a great commotion," he said.

He also asked to see a doctor on his first day under arrest. "After the interrogation concluded, I was left there for three hours and the exhaustion after having been asked questions led to me collapsing. It was only then that they brought a medic that checked my blood pressure, etc. It ended with me falling to the floor," he said.

The court also extended the remand of Shaul Elovitch, the controlling shareholder of the Bezeq telecommunications company, until Monday. His wife Iris will remain in custody until Monday too.

The police are looking into suspicions that Elovitch and Bezeq received regulatory benefits from the Communications Ministry in return for the favorable coverage of Prime Minister Benjamin Netanyahu and his family.

"The investigation is hard on him as it is," Elovitch's lawyer Jack Chen told the court. "His investigators told him that his life was over, and that he would end up as a supermarket guard."

On Wednesday, the court extended Communication Ministry Director-General Shlomo Filber's remand by 15 days after he signed a state's witness agreement.

The remand of Bezeq CEO Stella Handler's and the company's Strategy and Business Development Manager Amikam Shorer was extended by six days each.

"Now that the gag order has been removed, I can say unequivocally that this case raises reasonable suspicion and is based on even more serious corruption, everyone with his share, everyone with his own condition," said Judge Ronit Pozanski-Katz when extending the remand.

"The acts were allegedly carried out by senior officials in the government and Bezeq," she said.

Ynet and Yedioth Ahronoth reported Thursday morning that Ilan Yeshua, the CEO of the Walla! News website, has provided police investigators in recent days with recordings in which Elovitch is heard pressuring him to give Netanyahu and his family flattering coverage.

In his recent testimonies to the Israel Securities Authority (ISA) and the police's Lahav 433 Unit, Yeshua indicated that he planned to cooperate with the investigators and reveal how Elovitch pressured him and issued editorial instructions for the website.

Yeshua also told investigators he had realized the pressure was inappropriate and began recording his conversations with Elovitch. The first recording he played them had Elovitch issuing the explicit order.

A law enforcement source said that the recordings "were one of the main things that broke down Shlomo Filber's resistance and led to the state's witness agreement," after Filber realized what had been taking place behind his back while he provided Elovitch with benefits as the Communications Ministry director-general.

The Walla! News website's former news anchor, Dov Gilhar, and one of the website's senior editors, Avi Alcalay, testified Thursday at the Israel Securities Authority as part of Case 4000.