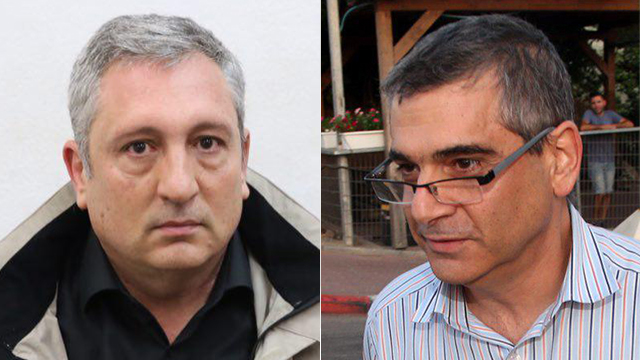 Hefetz (L) and Kamir
Photo: Motti Kimchi, Yariv Katz
Two suspected of offering bribes to close case against PM's wife
Netanyahu's former media adviser and Bezeq's former strategic advisor are suspected of offering judge promotion should she close case against PM's wife; both are embroiled in Case 4000, in which favors were given to Bezeq in exchange for favorable media coverage.
Nir Hefetz, Prime Minister Benjamin Netanyahu's former media adviser, and Eli Kamir, former Bezeq strategic advisor, are suspected of offering then-District Court president Hila Gerstel a promotion to attorney general in exchange for closing the case against the prime minister's wife, Sara, for alleged forgery of receipts and misuse of public funds, also referred to as the Prime Minister's residences affair.
While Gerstel reportedly rejected their offer, she apparently did not report it to the authorities.
The police decided to request an additional remand extension for Hefetz, even though he is detained until Thursday in the Bezeq affair—also known as Case 4000—for allegedly giving bribes in return for flattering coverage of Netanyahu and his family on the Walla! News website. The court rejected the request.
"This is a case of the utmost severity and an attempt to take control of the general prosecution," said officials at the State Attorney's Office. "The matter must be investigated and to get to the truth."
Moreover, the Tel Aviv District Court overturned a decision made Tuesday morning by the Jerusalem Magistrates' Court not to extend Kamir's remand, and ordered that he remain under arrest for another five days.
According to suspicions, Kamir made the proposal to Gerstel during Friday lunch, which she used to have with him and former Attorney General Yehuda Weinstein.
Although she did not report to the authorities, Gerstel reportedly shared what had happened with Chief justice Esther Hayut, who served as a regular judge at the time.
The police are expected to request testimony from both Gerstel and Hayut.
They are also currently in talks with some of the suspects, among them Hefetz and former Communications Ministry director-general Shlomo Filber, to become state witnesses in the case, also known as Case 1270, but at the moment it is not clear whether the talks are progressing. The attorney representing Hefetz denied any such offer or talks.
A statement issued on behalf of the prime minister denied the allegations, stating that Hefetz "never presented this ludicrous offer to the prime minister and his wife, he was never asked by them to make such an offer and we can't imagine that Hefetz would even imagine such a thing."
The statement went on to sarcastically suggest Netanyahu and his wife will soon be "accused of murdering (Haim) Arlosoroff," in an effort to point out the absurdity of the claims.
Bezeq hired Kamir in January 2015 as a special consultant for a shocking $40,000 a month salary, an amount several times greater than the fixed payment for similar services in the market, and—for the sake of comparison—was even close to the salary of Bezeq CEO Stella Handler.
Gerstel was one of eight finalists nominated to take the position of attorney general in 2015.
At the time, Avichai Mandelblit was asked by the Judicial Selection Committee if he would have a problem prosecuting Netanyahu while still serving as Cabinet Secretary, a position he was appointed to by Netanyahu.
Mandelblit replied that he would have no problem. "As soon as I am the attorney general, I will act solely according to the law," he said.
The police suspect that at this point, Hefetz and Kamir realized that Mandelblit cannot be trusted to be on the prime minister's side, and believed Netanyahu had unofficially withdrew his support of the Cabinet Secretary, and so turned to Gerstel.
In the end, the committee recommended a single candidate—Mandelblit—although Justice Minister Ayelet Shaked asked the committee to recommend three.
Gerstel was appointed as commissioner for prosecutorial oversight, but resigned in April 2016 because of differences she had with Mandelblit.
The prime minister himself is expected to be questioned in the Bezeq affair in the near future, as is his wife Sara, who is set to give testimony due to her relationship with Iris Elovitch, the wife of Bezeq majority shareholder Shaul Elovitch.
Police investigators have obtained text messages, emails and recordings of some of the people involved, who were arrested Sunday, with their remand extended at the Tel Aviv Magistrate's Court by four to five days.
Police and the Israel Securities Authority hold a highly significant "golden testimony" by one of the suspects involved, according to source with knowledge of the investigation.
Said testimony was presumed to be the reason the suspects' attorneys did not object to the police's requests to remand their clients.