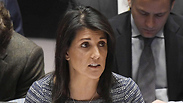 Haley says US peace plan 'won't be loved by either side'
US envoy to the UN Nikki Haley announces in Chicago she thinks the Trump administration is 'finishing up' a draft Mideast peace proposal which also 'won't be hated by either side;' remains vague on whether it centers on a two-state solution, but says it's a matter for Israel and the Palestinians to decide.
US Ambassador to the UN Nikki Haley announced Thursday that the Trump administration's first draft of a Middle East peace plan, that "won't be loved" by either side, is approaching its completion and will be presented in the near future.

Speaking during a question-and-answer session at the University of Chicago's Institute of Politics, the staunch Israel ally told listeners, according to a report in the Washington Post, "I think they're finishing it up."

Noting that President Donald Trump's chief negotiators—his son-in-law Jared Kushner and Jason Greenblatt—are "still going back and forth," she did not mention any specific deadline for the plan's release.


"They're coming up with a plan. It won't be loved by either side, and it won't be hated by either side," Haley said.

Remaining vague on what the plan would entail, Haley said that the notion of a two-state solution, while still being publicly advocated by the Palestinians, was a matter for Israel and the Palestinians to decide.

"It's for them to decide," Haley said of Israel and the Palestinians when asked by Institute Director David Axelrod, a former senior adviser to President Barack Obama, if the US would propose an independent Palestinian state.

"It is hard for me to see how they would want" a single state, she said, adding that she thinks "they are pushing toward a two-state" outcome.

On Tuesday, during a meeting of the UN Security Council during which Palestinian Authority (PA) President Mahmoud Abbas called for an international Middle East peace conference to be convened by the middle of 2018, Haley defended Trump's decision to recognize Jerusalem as Israel's capital and cautioned the Palestinians against "absolutist demands, hateful rhetoric, and incitement to violence."

"The problem is that the UN has proven itself time and again to be a grossly biased organization when it comes to Israel," she said, a fact which has made the problem "more difficult to solve."

"The United States knows the Palestinian leadership was very unhappy with the decision to move our embassy to Jerusalem. You don't have to like that decision, you don't have to praise it. You don't even have to accept it. But know this, that decision will not change," Haley told Abbas, who walked out after delivering his remarks.