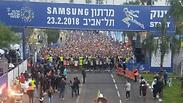 2018 Tel Aviv marathon
Photo: Reuven Schwartz
Kenyan runner clinches first place in Tel Aviv marathon
Ernest Kabani crosses finish line at Yarkon Park's car park in 2:19.53, taking the gold medal but unable to break the record set in 2015 by his fellow countryman, William Kiprono Yegon, of 2:10.30; disabled runner proud of his victory in running 1km; 'Three years ago I couldn't even take five steps.'
The Tel Aviv Marathon was completed in just under two hours and twenty minutes by a Kenyan runner Friday after getting underway at 6am for the tenth time, with some 40,000 runners from Israel and abroad participating.

The city's central streets were closed to traffic from 4am and roads began reopening from 1:30pm according to progress in the marathon in different areas.

The marathon began at Rokach Boulevard near the Tel Aviv Convention Center where runners continued toward different tracks passing through Rothschild Boulevard, the Tel Aviv Port and the city's beaches, the Reading Boardwalk, the Yarkon Park, Dizengoff Street, Rabin Square, HaYarkon Street, Ibn Gabirol Street, Old Jaffa and the Jaffa Port.

2018 Tel Aviv marathon

The marathon concluded at the Yarkon Park's car park, where festivities took place.

Runners participated in one of five tracks: a full marathon (42.195 kilometers), half marathon (21.1km), a 10 kilometer race, a five kilometer race and a handcycle race for handicapped persons (21.5km). There was also a mini-marathon for children.

Hopeful participants attempted to break the record of two hours, ten minutes and 30 seconds, set by Kenyan runner William Kiprono Yegon at the 2015 marathon.

But ultimately, Yegon retained his title as the fastest man to cross the finish line, while the Kenyan runner Ernest Kabani managed to do so nine minutes later, completing the full track in two hours, nineteen minutes and fifty-three seconds.

Trailing shortly behind in second place was Solomon Birto from Ethiopia, who covered the track in two hours, twenty minutes and seventeen seconds.

For some, however, it was their comedic spirit that trumped their competitive mode. Thirty-eight-year-old Ra'anan Ganor from Bnei Atarot decided to run the half-track in a skirt. "I did it to make other people happy. Abroad it is very common to do that. There were a few people who threw out some unpleasant slurs, but very few when compared to those who showed respect," Ganor said.

"I am happily married to Tamar who has been taking care of the children this morning so I could be here."

One couple from Berlin took advantage of their first visit to Israel to run through the streets of Tel Aviv in the half marathon.

"It is very nice to come to the country for the first time, to soak up its ways and customs and on the way to compete in a race like this," said Anya.

"That wasn't an easy race and it had a lot of hills, but it was definitely fun," added Svan.

Gil Greenberg, 38 from Ramat Gan, who suffers from Cerebral Palsy, participated in the marathon, covering a kilometer with the assistance of two escorts, Ben Klinger and Maor Weitzman. "I feel great, this is my victory," he told Ynet. "Three years ago I couldn't take five steps and now I have got to the marathon. It's a high point that made the whole thing worth it."

"This is a happy day, a celebratory day with 40,000 runners," said Tel Aviv's city mayor Ron Huldai before he launched the race, calling for patience on the part of the residents who may be affected.

"I say to the residents of Tel Aviv: It's only a marathon in a city where every day is a holiday. It always irritates someone and I understand that it's difficult, but we need patience and it will pass."

For a handful, however, the run did not end in smiles. A tourist from Ukraine was evacuated to Ichilov Hospital at the Tel Aviv Sourasky Medical Center after suffering from Hyperthermia.

In addition, Magen David Adom medics treated 35 people, ten of whom were in moderate condition having suffered from hyperthermia and heart problems.

They were evacuated to Ichilov, Sheba Medical Center at Tel Hashomer, Beilinson Hospital at the Rabin Medical Center in Petah Tikva, Meir Hospital in Kfar Saba and Wolfson Medical Center in Holon.

Others were angered over the impact on their businesses. Lior Kamhazi, owner of the City Market supermarket chain, presented the difficulties for businesses such as his near the race's route. He said, "It's a happy day with a festive atmosphere that brings in a lot of tourists, but we have a problem with opening up our business as far as employees coming in, and we're debating whether to open some branches at all.

"Another problem is that links with the municipality aren't good enough, and that's a shame, because if the municipality invested in keeping businesses up to date and providing transportation assistance, such as shuttles for employees, that would be a great help."