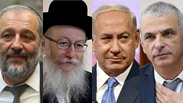 L-R: Aryeh Deri, Yaakov Litzman, PM Netanyahu and Moshe Kahlon
Photo: Yoav Dudkevitch, Alex Kolomoisky and Ohad Zwigenberg
Deputy Health Minister Yaakov Litzman said Sunday that the government has no right to exist without approving the draft bill that would exempt Haredim from IDF conscription.

Litzman's comments come less than a week after the United Torah Judaism party (UTJ) plunged the government into yet another crisis by pledging not to support the state's 2019 budget unless an IDF conscription bill, that would solicit state recognition of Torah studies to being equal to military service, was brought for a vote and passed in the Knesset.

"On Wednesday night Prime Minister Netanyahu asked if we want elections. Everyone said no and he also said no. But he understood from my point of view that there will be no movement because I have a decree from the Council of Torah Sages," Litzman explained in an interview with Ynet.

"He heard this from me. It's not like he heard it as a surprise. I don't see a disaster in postponing the budget. If they don't agree to delay the state budget, one of two things will happen: We will either vote against it, or there will be elections," he warned.

"There is no way of conducting negotiations after a decision has been made by the Council of Torah Sages," he added in reference to an instruction first issued by the Council of Torah Sages in February exhorting the party to make their support dependent on the amendment to the draft law.

At the time, however, the UTJ attempted to clarify at the time that this was not an explicit demand that if not followed would result in yet another coalition crisis.

However, matters changed on Wednesday with the party stating that its backing of the state budget entirely hinged on the fate of the draft law.

The UTJ is seeking to rapidly ram the bill through the Knesset in order to obtain, for the first time, official state recognition of Torah studies, in addition to stipulating that Torah studies be mandatory. In doing so, the bill would elevate the status of students of Torah to being equal to that of IDF conscripts.

The bill is intended to circumvent a decision by the High Court of Justice which stipulated that the current parameters of the law had to be changed and a new equality in the sharing of the burden in the IDF law would have to be legislated.