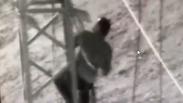 Footage shows Hamas siphoning Gaza power
COGAT Mordechai publishes video allegedly showing Hamas operatives illegally siphoning power intended for Gaza's 'hospitals, schools for terror. Watch this daylight robbery'; Gaza currently receives half of power its people require, with strip's sole power station shutting down due to diesel shortage.
Coordinator of Government Activities in the Territories (COGAT) Maj.-Gen. Yoav Mordechai uploaded footage to his Facebook page showing Hamas operatives hooking up illicitly to a Gaza power line Saturday in order to siphon electricity. The footage came to light on the backdrop of a worsening crisis in Gaza, partly due to electrical shortages.

"The Hamas terror group continues stealing from the people of Gaza," Mordechai wrote. It was reported Saturday Hamas forces arrived to an area near the Gaza Strip's border with Israel, where power lines run, to create unlawful hookups for their own purposes.

COGAT's footage of Hamas illegally siphoning power

"The power line crosses into the Gaza Strip and the pirated connection was carried out in the region between Maghazi and Khan Yunis," COGAT added. "This power was intended for hospitals and schools, but Hamas is uninterested in the populace and even exploits it. Watch the daylight robbery."

"The Hamas terror group continues its cynical exploitation of the people of Gaza and siphons power despite frequent power outages in the strip. Only a week ago it was published that Hamas is stealing fuel brought into the strip for the Palestinian public, and selling it on the private market to the highest bidder," Mordechai concluded.
Gaza's daily power supply reaches half of amount required
A triumvirate meeting was held in Ramallah last month with the participation of Israeli, Palestinian and United Nations representatives to discuss the matter of Egypt halting diesel fuel shipments to Gaza, which caused the strip's sole power station to stop working.

Gaza's power station, built in 2002, runs on diesel. Its maximal production output stands at 140 megawatts, but it currently only produces between 60 and 80 megawatts.

According to Israel, 125 megawatts are being sent to Gaza every day, with an additional 25 megawatts generated by the diesel-powered power station, with no power being transferred from Egypt.

Said supply only affords the people of Gaza four hours of electricity—followed by a 12 hour blackout.

The power crisis worsens once every few months since the Palestinian Authority, which pays for the power station's diesel, demands Hamas pay the excise tax levied on diesel bought in Israel, whereas Hamas refuses to do so but nevertheless collects tax from Gazans for power consumption.