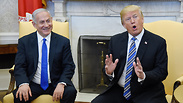 Netanyahu and Trump meet at the White House
Photo: MCT
Netanyahu: I've not been presented with US peace plan yet
After meeting with Trump, the PM tells journalists he was not given a timetable for the release American administration's peace initiative, adding that the Palestinians are 'trying to run away from negotiations, or at least they're not exactly rushing towards the negotiating table.'
Prime Minister Benjamin Netanyahu said Monday that he has yet to see the American peace plan and has not been presented with a timetable for the release of the plan.

In a briefing to journalists, the prime minister said the possibility of Israeli annexation of areas in the West Bank did not come up in his meeting with US President Donald Trump.

"We cannot have a negotiation with someone who doesn't want to come to the table," Netanyahu added, referring to the Palestinians.




He noted the desired situation was for the Palestinians to want to resolve the conflict, but added "Is this the existing situation? I don't know."

The prime minister accused the Palestinians of "trying to run away from negotiations, or at least they're not exactly rushing towards the (negotiating) table."

In comments to the press with Trump earlier Monday, Netanyahu sounded more optimistic about the peace process, noting that "the Arabs have never been closer to Israel; Israel has never been closer to the Arab states. And we seek also to broaden that peace to the Palestinians."

Trump himself was also confident of the chances to reach peace between Israel and the Palestinians, asserting that "If we could do peace between Israel and the Palestinians, that would be a great thing for the world, that would be a great thing for this country, and a great thing for everybody."

The American president further insisted that by recognizing Jerusalem as Israel's capital, "We've taken (the dispute over Jerusalem) off the table. So this gives us a real opportunity to peace."

He was also hopeful that "the Palestinians, I think, want to come back to the table. If they don't, you don't have peace. That's a possibility also. I'm not saying it's going to happen."