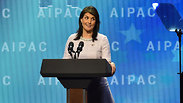 UN Ambassador Haley
Photo: AFP
UN Ambassador Haley: 'Jerusalem will always be capital of Israel'
Speaking at AIPAC's annual conference, US Ambassador to UN Haley says Jerusalem being capital is 'fact not created by location of embassy or American decision'; VP Pence: 'America stands with Israel—today, tomorrow and always, because we believe in right over wrong, in good over evil, in liberty over tyranny.'
United States Ambassador to the United Nations Nikki Haley spoke about Israel's capital at the American Israel Public Affairs Committee (AIPAC) 2018 Policy Conference Monday night, declaring that "Jerusalem was, is and will always be the capital of Israel. That's a fact."

The assembled Washington crowd responded with raucous applause. "This was not something that was created by the location of embassy," she continued "This is not something that was created by an American decision. America did not make Jerusalem Israel's capital.

"What President Trump did, to his great credit, was recognize a reality that American presidents had denied for too long. Jerusalem is the capital of Israel. That's a fact. And President Trump had the courage to recognize that fact when others would not."

Ambassador Haley speaking at the AIPAC conference (צילום: איפא"ק)

"Sometime in the future, the day will come when the whole world recognizes that fact," the US envoy added.

Haley then said she intends to return to Israel for the planned opening of the new American embassy in Jerusalem. "I hope to be there and join our great ambassador, David Friedman, on the day when we open our brand new American embassy in Jerusalem," she said to more cheers.

The diplomat then went on to comment on Guatemala's decision to also move its embassy to Israel's capital, and said, "God bless Guatemala. They even joined us in moving their embassy to Jerusalem."

"Some people accuse us of favoritism towards Israel," Haley said, noting there was "nothing wrong with showing favoritism toward an ally."

"Israel is a strong country with a strong military. But at the UN, it's a different story. Israel does get bullied there. It gets bullied because the countries that don't like Israel get away with it. That just doesn't sit well with me," the envoy protested.

She then went on to criticize a decision by the administration of former President Barack Obama not only to not veto but also abstain on UN Security Council resolution 2334 in 2016, which determined the Israeli settlements in the West Bank were illegal, calling it "a shameful day for the United States," adding that "on my watch, that would never happen again."

Haley further elaborated that, "It cannot be the case that only one country in the world doesn't get to choose it capital city."
VP Pence: 'US will always stand by Israel'
A short time after Ambassador Haley concluded her remarks, Vice President Mike Pence took to the stage to address the AIPAC conference. Opening his remarks, Pence said, "I stand before you today in (President Donald Trump's) behalf to convey a simple message: America stands with Israel—today, tomorrow and always, because we believe in right over wrong, in good over evil, in liberty over tyranny."

"President Trump promised to ensure that Israel would have the resources and tools to defend itself by itself. And today, American support for the security of the State of Israel is greater than ever before," the vice president state.

Pence, like Haley before him, also commented on the issue of Jerusalem recognition, saying, "While every president in the past two decades promised to recognize the capital of Israel, President Trump did more than promise—he delivered."

On the American peace plan for the Middle East, Pence said, that "The United States was committed to striving for peace, and we know it's possible, because history records Israel has made very difficult decisions to achieve peace with its neighbors in the past.

"As the president reaffirmed, if both sides agree, the United States of America will support a two-state solution."

However, he stressed, "The US will never compromise the safety and security of the Jewish state of Israel."

Speaking more broadly about the region, Pence commented on the impending collapse of the Islamic State (ISIS), but warned against Iran usurping it. "As the enemy retreats, we must be vigilant to prevent others from taking its place. Iran hopes to recreate the Persian Empire under the modern dictatorship of the ayatollahs," he said.

"As we speak, that regime seeks to carve out a corridor of influence running through Iraq, Syria and Lebanon, creating an unbroken passage for its armies and ideology. Last year alone, Iran spent more than four billion dollars to achieve it ends. We will not allow the defeat of ISIS to become a victory for Iran," Pence continued.

Lastly, Vice President Pence mentioned Israel downing an Iranian drone that entered its airspace in the Golan Heights. It was, Pence said, "a brazen act of aggression, but Israel's swift and strong response sent a warning to Iran across the region: that dangerous provocations will not go unchecked by Israel, America or our allies."
Jerusalem front and center in PM Netanyahu, Trump meeting
Prime Minister Benjamin Netanyahu and President Trump met in the White House Monday. Netanyahu is in the US for a five-day visit along with his wife Sara, and is also expected to speak at the AIPAC conference later Tuesday.

President Trump told Prime Minister Netanyahu during their meeting that he may come to Israel for the opening of the new American embassy in Jerusalem.

Trump asserted that decision to move the US embassy from Tel Aviv to Jerusalem "was a wonderful thing, and I know it was very much appreciated in a big part of the world, not just in Israel."

PM Netanyahu's visit to the White House (צילום: רויטרס)

Trump himself was also confident of the chances to reach peace between Israel and the Palestinians, asserting that "If we could do peace between Israel and the Palestinians, that would be a great thing for the world, that would be a great thing for this country, and a great thing for everybody."

The American president further insisted that by recognizing Jerusalem as Israel's capital, "We've taken (the dispute over Jerusalem) off the table. So this gives us a real opportunity to peace."

He was also hopeful that "the Palestinians, I think, want to come back to the table. If they don't, you don't have peace. That's a possibility also. I'm not saying it's going to happen."

Education Minister and Security Cabinet member Naftali Bennett spoke at the AIPAC conference earlier Monday and warned of Iran and Saudi Arabia's attempts to acquire nuclear weapons.

Bennett said, "Saudi Arabia is already trying to achieve uranium enrichment capabilities. Today it is a convenient regime for the West, but in the Middle East and the Arab countries there is a built-in structural instability.

"Iran, Saudi Arabia, or any other country must not have nuclear capability. It is dangerous to Israel, dangerous to the region, and dangerous to the world."