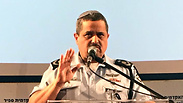 Police Commission Roni Alsheikh
Photo: Gadi Kabalo
A day after Prime Minister Benjamin Netanyahu's former media advisor, Nir Hefetz became the third man to sign a state's witness agreement in one of the corruption investigations against the Israeli leader, Police Commissioner Roni Alsheikh said Tuesday that a state's witness is "one of the most important tools of deterrence against criminal organizations and public corruption."

"A state's witness tells the story. As long as his testimony is strong, stable open and obviously it is underpinned by other evidence, it seriously strengthens the case," Alsheikh said during a speech in Ashkelon's Sapir Academic College.

"Our test is to take down corruption—not to show that we have managed to convict someone, but to take down corruption," he continued. "If what we do doesn't take down corruption, we are not serving society."

According to the police chief, who has also come under attack in the past by Netanyahu for the way in which his investigations have been handled, the value of a state's witness as a deterrent is at least equal to its value for building a case against a suspect.


"To be sure, it is a byproduct, but this byproduct is extremely important," he said.

Alsheikh was also asked if he views it as a personal failure if the attorney general does not accept the police recommendations to indict Netanyahu.

"I trust the attorney general who weighs professional and legally pure considerations," he responded. "There are things he has to consider that we don't. For example, the public interest. That's what he's there for. We consider the real investigation and evidence."

His police forces, he continued "look at the mounds of evidence, ask whether there is an alternative explanation and check it. Only then is it possible to reach the conclusion that there is enough evidence to convict someone."

He also noted that the legal analysis conducted by the police does not obligate the attorney general to act based on their recommendations.

"The attorney general will make a clean decision on whether it is right to bring someone to trial based on the legal analysis and obviously in accordance with the public interest," Alsheikh continued.

"If it turns out that we haven't done our job in our analysis, that will be a personal failure for me," he accepted.

Hefetz, signed a state's witness agreement Monday, joining two other close associates of the prime minister who have turned state's witnesses recently—Ari Harow and Shlomo Filber.

As part of the agreement, Hefetz will receive full immunity. He won't serve time in prison and won't be required to pay a fine.