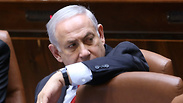 PM Netanyahu
Photo: Alex Kolomoisky
The Israel Police announced Tuesday there is sufficient evidence to indict Prime Minister Benjamin Netanyahu for bribery, fraud and breach of trust in two cases against him, Case 1000 and Case 2000.
Case 1000 concerns illicit gifts Netanyahu allegedly received from business moguls Arnon Milchan and James Packer, whereas Case 2000 concerns talks the premier had with Yedioth Ahronoth owner and publisher Arnon Mozes regarding the Israel Hayom daily.
The police also recommended the indictment of Milchan for giving bribes and Mozes for offering bribes.
The recommendations now go to Attorney General Avihai Mendelblit, who will review the material before deciding whether to file charges. Netanyahu can remain in office during that process, which could drag on for months.
Case 1000: History of favors given, gifts taken
In Case 1000, the police announced that evidence and testimonies indicate that Netanyahu used his position to influence government policy for the betterment of his associates, while he and his family received kickbacks in return.
The gifts the Netanyahus received—such as cigars, champagne and jewelry—were given over the course of about a decade, reaching a total of about NIS 1 million—NIS 750,000 in gifts from Milchan and about NIS 250,000 from Packer, according to the police.
Among other things, the police said that Yesh Atid party leader MK Yair Lapid served as a key witness in Case 1000.
The police rejected Netanyahu's explanation to the gifts as being part of his close friendship with Milchan, explaining that "among friends, there is mutuality," which they claim was absent in this case.
"One recives gifts, not demands," the police stressed, noting that "there was a demand (by the Netanyahus) to receive the goods in a systematic and covert manner."
The police described the relationship between Netanyahu and Milchan as a "relationship of bribery, which amounts to a criminal offense, and not an innocent relationship between friends."
The police further noted that "a relationship in which a public employee or representative who receives benefits from someone (even if he is a friend), while at the same time using his authority, power and influence to promote the interest of that person - is forbidden by law."
Furthermore, police noted that as Netanyahu's star rose in politics, the demands for gifts increased.
"After Netanyahu's election to the premiership in 2009, the scope and frequency of goods increased significantly. The investigation found that the goods were given to the prime minister in light role as prime minister and minister of communications during the relevant period, and in return for his activity - directly or indirectly - to promote different matters that benefited Mr. Milchan's businesses, financial situation, status or reputation," the police stated.
In some of the instances, police noted, "things were done contrary to the interests of the state."
Several examples were given by the police of the numerous decisions and actions Netanyahu took in favor of Milchan.
Tax benefits - One such favor was the premier's invested interest in extending tax benefits for returning residents to over 10 years, something the police estimated would have saved Milchan millions of dollars. Finance Ministry officials rejected the proposal, saying it was contrary to the public interest, because fewer taxes would be collected.
US visa - Netanyahu is also suspected of working to aid Milchan renew his visa to the US. The prime minister allegedly turned to then-US Secretary of State John Kerry, then-US Ambassador to Israel Dan Shapiro and Israel's Ambassador to the US Ron Dermer, asking for their help in extending Milchan's visa.
Channel 2 merger - The prime minister allegedly worked to promote the unification of the two TV networks that shared Channel 2, Keshet and Reshet, where Milchan sought to run, in addition to owning shares in the competing commercial Channel 10.
"Communications Ministry Director General Shlomo Filber intervened and acted on behalf of Netanyahu in order to advance Milchan's affairs. In return, the prime minister was promised to receive sympathetic coverage," police said.
The Tata project - According to the police, the most glaring example of Netanyahu working against Israel's interests to benefit Milchan was his efforts promote a free trade zone on the Israel-Jordan border, a project Milchan sought to promote as part of his partnership with Indian industrialist Ratan Naval Tata.
The project, which police noted went against the recommendations of the defense establishment, would have generated Milchan and Tata "a huge profit," but ended up being scrapped because it would've cost the state an unreasonable amount in security expenses.
Channel 10 - Netanyahu allegedly acted in violation of the law when he handled the affairs of Channel 10, despite knowing his friend Milchan owns shares in the channel.
Case 2000: Rival's weakening in return for favorable coverage
According to the police, Prime Minister Netanyahu and Yedioth Ahronoth owner and publish Arnon Mozes discussed mutual assistance to promote one another's interests during private meetings that began in 2009 and lasted for several years.
As part of these talks, the two allegedly discussed the possibility of Mozes helping Netanyahu establish himself as prime minister through positive and favorable coverage in Yedioth Ahronoth. In return, the prime minister would aid Mozes promote Yedioth's financial interests by initiating and supporting moves to weaken rival newspaper Israel Hayom.
The investigation further found Netanyahu and Mozes took actual steps to promote each other's interests as part of the understandings reached between them, "or at the very least made it appear to the other they were doing so," police noted.
Among the steps Netanyahu allegedly took to aid Mozes were: his support of a bill to prevent the free distribution of newspapers, dubbed the Israel Hayom bill as the daily is handed out for free; his efforts to reduce Israel Hayom's distribution; and his efforts to cancel the paper's weekend edition.
In addition, Netanyahu, the minister of communications at the time, allegedly mediated between Mozes and potential buyers for Yedioth Ahronoth.
The police investigation was based on two recordings done at the behest of Netanyahu, without Mozes' knowledge. The recordings document meetings between Netanyahu and Mozes at the Prime Minister's Residence in Jerusalem and were recorded by his then-chief of staff Ari Harow on his cellphone.
Recommendations 'will end in nothing'
In a nationwide TV address, Netanyahu denied all allegations against him, insisting the police's recommendations to indict him "will end in nothing" and exclaiming that his lengthy political career has been solely "for the good of the nation."
On the police's decision to indict him in the illicit gifts case, Netanyahu said, "How can one take seriously the claim that I acted on Milchan's behalf in exchange for cigars? I did the exact opposite—by endeavoring to close Channel 10, partly owned by Milchan himself."
"How can you say that I acted on Milchan's behalf for cigars if one of my actions as finance minister was to break his monopoly in the car parts market, in complete contravention of his interests?" Netanyahu further demanded.
He acknowledged aiding Milchan with his visa issues, but said Milchan had done much for Israel and noted that the late president Shimon Peres had also been close to Milchan.
On the police's decision to indict him for his ties to Mozes, Netanyahu said, "How can it be said that I wanted to act on Mozes's behalf by passing the bill to close down Israel Hayom, when in reality I did the opposite? I voted against the bill, dissolved the Knesset and risked my political future."
"Unlike me, 43 ministers and MKs acted on Mozes's behalf and as his emissaries. They promoted his bills and in return received flattering coverage from Yedioth Ahronoth. Why has no recommendation been made against them?" The prime minister wondered.
Netanyahu charged that all the allegations against him over the years had one goal: "to topple me from government."
He accused the police of going on a witch hunt against him and vowed to remain in office and run for re-election.
"I'm only driven by a single thing," Netanyahu said, "to preserve our country's future. I will continue leading Israel with the utmost responsibility and loyalty so long as you, the people of Israel, elect me to do so."
"I'm certain the truth will come to light, and I'm also certain I'll once again be awarded your trust in the next elections, God willing," Netanyahu concluded.
Attorneys Navit Noga and Iris Niv-Sabag, who represent Mozes, said their client was in possession of "sound legal arguments, and we believe that after further inspection of the investigation's findings by the State Attorney's Office, the case against him will be closed, and it will be determined he was not guilty of wrongdoing.
"The relationship between the media and public officials, including politicians, is a cornerstone of a democratic state. Any attempt to portray such a relationship - as complex and complicated as it may be - as criminal, is problematic and dangerous.
"Unlike others, Mozes avoided addressing the issues that came up during the investigation, and he will continue to do so now. In time, he would be able to address these issues."
Milchan's legal team said that "the police's recommendation to indict for bribery will not stand. The recommendation ignores fundamental facts, which none dispute, including the fact that the relationship between Mr. Milchan and Mr. Netanyahu began in the early 2000s, when Netanyahu was not holding any public office. This relationship was characterized by friendship between the two and their families. As part of this relationship, Mr. Milchan gave gifts to the Netanyahu family from time to time, devoid of any business interest.
"Mr. Milchan had been called to provide his testimony and did so in good faith, without even consulting lawyers, under the deep belief there was nothing wrong with his actions. The recommendations interpret - in a distorted and artificial manner - matters that have no connection to these gifts, and it is surprising that a disconnected decision was made to choose such an extreme offense, which is not in line with this simple procedure. We are confident that a professional examination of all of the data will lead to one obvious conclusion: It is not possible to file an indictment for bribery. If such an unprecedented indictment is filed, the court - any court - is expected to reject it."
Netanyahu, who has been prime minister for nine straight years, and his family have become embroiled in a series of scandals in recent months.
Recordings recently emerged of his wife, Sara, screaming at an aide, while separate recordings emerged of his eldest son, Yair, on a drunken night out at a series of Tel Aviv strip clubs while traveling around in a taxpayer-funded government car with a government-funded bodyguard.
Netanyahu has said the scandals are all the work of the media out to get him.
Earlier Tuesday, as part of the preparations for the publication of the recommendations, Netanyahu convened his associates and lawyers for consultations.
On Monday, the High Court of Justice summarily rejected a petition which sought to prevent the police from attaching recommendations to cases it had investigated in general, and to Netanyahu's cases in particular.
Eli Senyor, Moran Azulay and Itamar Eichner contributed to this article.
Arnon Mozes is the publisher and owner of Yedioth Ahronoth Group, which includes Ynet and Ynetnews.