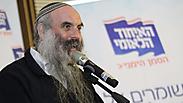 Rabbi Yehoshua Shapira
Photo: Hillel Meir
Religious-Zionist rabbi: LGBT culture is a 'spreading sickness'
Rabbi Yehoshua Shapira, who heads the hesder yeshiva in Ramat Gan, causes ire after criticizing 'LGBTstan phenomenon' in Israel, claiming 'We're not homophobes and we're not extremists'; mayor calls on defense minister to take steps against rabbi; LGBT group plans protest.
Religious-Zionist rabbi Yehoshua Shapira called the LGBT culture "a spreading sickness" earlier this week, raising ire among LGBT groups and politicians.

Shapira, the head of the hesder yeshiva in Ramat Gan, is one of the prominent members of the Tkuma party, which presented its new "Jewish Israel" platform under the tagline "Religionization is Us" on Tuesday, committing among other things to oppose any recognition of same-sex couples.

The rabbi argued Tkuma's new platform does not constitute homophobia, explaining those who adopted such a position are "healthy believers."

"We're not phobic at all, we live without anxieties and without fears," said Shapira. "We're brave people, Israeli heroes, and we're not going to be afraid of the LGBTstan phenomenon."

He bemoaned the fact that "anyone who says anything about a healthy faithful family is considered someone with phobias. He is (branded as) an extremist. And for what? For expressing an opinion that formed the basis of all humanity and all of the Torah?!"

"We're not homophobes and we're not extremists. It is insanity to view this as the problem of religious-Zionism," the rabbi continued.

"God is my witness that I invested many hours in helping those who face difficulties in this area," he said, meaning LGBT people.

Tkuma's "Jewish Israel" platform, which is seen preparation for possible early elections and perhaps even separation from the Bayit Yehudi Party, addresses issues of religion and state, mostly controversial ones. The faction takes conservative positions on Shabbat observance in the public space, Israeli sovereignty on the Temple Mount, women's service in the IDF, and more.

The Ne'emanei Torah Va'Avodah Movement claimed the new Tkuma platform was "filled with rejection of the other and defensiveness" and does not reflect the positions of the majority of religious Zionists.

Shapira rejected the criticism, saying "We're being attacked for this platform as if we left (religious Zionism) and became Haredim. We're being hated for our sanity."
Anger in Ramat Gan
The mayor of Ramat Gan, Yisrael Zinger, came out against Shapira, calling on Defense Minister Avigdor Lieberman to summon the rabbi for a hearing and demand an explanation for his controversial comments.
"Ramat Gan always was and will always be a pluralistic and inclusive city, which treats all of its residents with respect and tolerance," Zinger said. "It cannot be that educators come out with statements that hurt large communities in the city and outside of it."
He defined the rabbi's positions "dark and offensive," hinting that Lieberman should consider stopping state funding to the hesder yeshiva the rabbi heads.
The Religious LGBT Community forum along with the organizations Havruta and Bat Kol released a joint condemnation of the rabbi's comments, calling on "all of the moderate voices, and there are many of those, to stand up and break their silence."
The "Ramat Gan Pride" group said it plans a protest outside Shapira's hesder yeshiva next week "in support of solidarity and a pluralistic city," after the city has become in recent years "the stronghold of rabbis who call LGBTs 'sick,' encourage the exclusion of women, and scorn single-parent families."
Aviad Fenyő, the demonstration organizer, said it will express "the spirit of acceptance to all in Ramat Gan."
'He can't continue working in education'
MK Omer Bar-Lev (Zionist Union) slammed the Tkuma party, calling it "a dangerous place" and a "cult of hatred." He asserted Shapira's speech exposed "a doctrine of disgust and ignorance of the darkest people."

"Unlike (Bayit Yehudi leader) Bennett, who talks about faux-unity and in reality sweeps under the rug the rotting in his 'Jewish' Home, Rabbi Shapira is tired of hiding, and he brings the stench out to the light of day," Bar-Lev said. "'Religionization is Us,' indeed. Homophobia, discrimination and hatred is also them!"

Zionist Union MK Ksenia Svetlova echoed his criticism, adding, "Darkness is not part of the values of the State of Israel, and someone who makes such comments cannot continue working in education and poisoning the hearts of young people, who he will make haters like him."

"Three years ago, at the Pride Parade in Jerusalem, Shira Banki paid with her life for this incitement against LGBTs, which appears from time to time from the rabbi 'on duty,'" Svetlova continued. "The disease of hatred, ignorance and darkness of people like him - this is the sickness that is spreading. The state needs to deal with this sickness before it's too late."