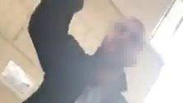 The Immigration and Population Authority security guard
Footage shows Population Authority security guard swearing at east Jerusalem resident
East Jerusalem resident says he documented harsh conditions at Immigration and Population Authority's east Jerusalem office, but security guard asked him to stop and then swore at him; 'They don't want us documenting anything,' said a witness to the incident.
A security guard at the Immigration and Population Authority's east Jerusalem office was filmed screaming and swearing at an east Jerusalem resident. The video, taken several days ago, joins accounts by many locals decrying conditions in the Authority's east Jerusalem branch, forcing them to wait several months for an audience and stand outside without protection from the elements.

The security guard working at the Authority's offices in the Wadi al-Joz neighborhood of east Jerusalem was filmed saying, "Give me your I.D., I'll f*** you up."

Footage of the security guard's outburst

The outburst purportedly came after the man filmed long lines at the office with his cell phone, in order to illustrate what he described as the suffering experienced by those waiting to receive service there.

The security guard demanded he stop filming, but he countered by saying, "There's no law forbidding documentation of suffering at public institutions." The security guard is then said to have sworn at him and threatened him.

Ibrahim, a Wadi al-Joz resident, said, "Security guards were apparently and unfortunately instructed by the powers that be to prevent any filming of our suffering, especially long daily lines from the morning until the afternoon.

"It's time, however, to show things as they are truly happening. The security guard's conduct was inappropriate and he harmed us all. A man who speaks like that shouldn't be at the office and must apologize for his harsh statements."

Another woman present at the scene who witnessed the incident said, "I was taken aback by the statements. These people are insensitive to our plight, (and) they don't want us documenting anything that may lead to a solution.

"I also filmed things that (make us) suffer. It's about filming things having to do with the general public, not something private. If we don't do it, then the suffering will continue. There's no one to look out for us."

The woman added that the security guard "respected no one. He has no right to speak to people that way. We didn't come into his home, but to a public agency. He works as a security guard and should respect his duty and refrain from swearing at people."

The Immigration and Population Authority offered comment, saying, "Security guards working at the Authority's offices nationwide are constantly briefed to treat the public with sensitivity and dignity and indeed do so every day, for long hours. We regret the incident deeply and will certainly examine the circumstances leading up to it."