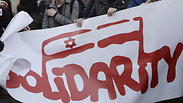 The Warsaw solidarity rally
Photo: AP
Hundreds of Poles have gathered in Warsaw Sunday to express their solidarity with Jews who perished in the Holocaust, were expelled from Poland 50 years ago or feel targeted by a new wave of anti-Semitism today.
Speakers at the demonstration denounced policies of the current Polish government that have led to a dispute with Israel and sparked a wave of anti-Semitic rhetoric.
They gathered late Sunday afternoon at the Gdanski train station, the departure point for thousands of Poles of Jewish descent who were forced to leave the country in a March 1968 purge by the communist regime of the time.
The rally was part of a larger initiative by Polish civic groups that also published an open letter describing the government policies as "radical and inappropriate."
75th anniversary of Jewish deportations observed in Macedonia
In Macedonia, meanwhile, thousands of people marched in the country's south Sunday to commemorate the 75th anniversary of the deportation and eventual death of almost the entirety of the country's Jewish population.

Public officials, civic group representatives and relatives of former Macedonian Jews came from Israel, Latin America and the United States to attend the event in the town of Bitola.

Macedonia was a province of the Kingdom of Yugoslavia when it was occupied by Germany's Bulgarian allies during World War II. More than 7,000 Jews from the cities of Skopje, Bitola and Stip were confined to ghettos in March 1943 before being deported to the Nazi death camp in German-occupied Treblinka, Poland.

Ninety-eight percent of Macedonia's Jews perished there.