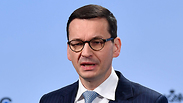 Polish PM Morawieck
Photo: AFP
Poland's lawmakers have approved a resolution marking mass anti-communist protests that occurred 50 years ago and condemning an anti-Semitic purge that ensued.

Both the ruling party and the opposition backed the resolution on the 1968 events in communist-ruled Poland. The lower house of parliament voted 424-3 with two abstentions to approve it on Tuesday.

Students and intellectuals defending a banned anti-totalitarian play initiated the protests, which the ruling communist factions used in their infighting that climaxed in the purge of Jews, labeled by the government as an "anti-Zionist" campaign.

At least 13,000 Jews were forced to leave Poland in the four years following the campaign as a result of being fired from their positions and various other forms of harassment, and the purge has continued to weigh on relations between Poles and Jews to the present day.

The resolution mentioned respect for those who "fought for freedom and democracy" and condemned anti-Semitism and the "communist organizers of anti-Semitic persecution."

A lawmaker for the far-right National Movement party, Robert Winnicki, drew boos when he said the resolution failed to mention that Poland's émigrés included communist judges who handed death sentences to Poland's independence fighters in the 1940s and 1950s.

He named the late Helena Wolinska, whose extradition Poland had sought from Britain before she died in 2008.

The resolution and events scheduled in Poland for the 1968 anniversary come at a time of tension between Warsaw and Jerusalem over a new law that carries penalties for blaming Poles for Holocaust crimes committed by Nazi Germans.

Poland says the law is needed to fight slander, while in Israel it has been interpreted as an attempt to suppress debate and historical research on cases in which Poles killed Jews.