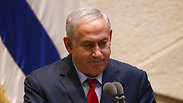 Prime Minister Benjamin Netanyahu. Found out that his partners won't remain loyal to him at all cost
Photo: Ohad Zwigenberg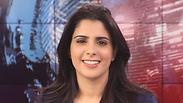 Moran Azulay
Photo: Yaron Brener
Netanyahu imprisoned in his own government
Analysis: Led by Bayit Yehudi Ministers Bennett and Shaked, the coalition closed in on the prime minister from all sides. Netanyahu, who knew this was his last chance for an easy election victory, received a lesson in the limits of power. But the political crises won't disappear; they will return more intensely after the Knesset's holiday recess.
If there's one conclusion from the latest coalition crisis, it's that the ultra-Orthodox politicians are far less scary than we thought.

For years, Haredi parties have been providing a general, consistent explanation for their conduct: "We do only what the rabbis say." And then the current crisis developed, nearly sending Israel's citizens to elections, and put an end to that fable.

Suddenly, when they really wanted to, they revealed remarkable flexibility and an ability to flip decisions made by the Council of Torah Sages, twice in the same day.

The Haredim were the first ones to lose from the political salad of the past week. None of their initial demands were accepted and they created a problematic public atmosphere around them and a situation in which all elements of the coalition have become indifferent to their threats.

The post-crisis winners appear to be Finance Minister Moshe Kahlon and Defense Minister Avigdor Lieberman.

After three nerve-racking days in the political system, Lieberman got what he wanted: The IDF draft bill would be prepared for its final reading by the Defense Ministry, and he and all his faction members—including Minister Sofa Landver—would be allowed to vote against the bill presented earlier without any consequences.

Despite a real threat of elections he wasn't interested in, Lieberman didn't bat an eye the entire time and highly impressed his voters.

Kahlon entered the battle with only one message: If the 2019 state budget doesn't pass three readings by Passover, Israel will celebrate the holiday without a finance minister.

The finance minister's evaluation throughout most of the crisis period was that it was resolvable. But even when it seemed like the die had been cast and elections were on the way, he remained adamant and kept his composure. He didn't give wild-eyed interviews like others, whose fear of elections was revealed during their crisis, and didn't zigzag like Prime Minister Benjamin Netanyahu and the Haredim.

Now that the crisis has been solved, Kahlon is about to break a record by passing his fifth budget in a row.
A transition government
So what actually happened here? How did Israel's citizens almost go to the polls?

Netanyahu will have no better time for elections. That's something every political novice understands, and certainly the prime minister. The reason is simple: From now on, his legal situation will only get worse, the information provided by the state's witnesses will slowly be leaked, and who knows what the future still holds. This was his last chance for an easy election victory. He understands that too, but this time he received a lesson in the limits of power.

Led by Education Minister Naftali Bennett and Justice Minister Ayelet Shaked of the Bayit Yehudi party, who went head-to-head against Netanyahu with bare fists and indirectly prepared the ground for a continued partnership between the coalition parties with or without him, his coalition closed in on him from all sides. First, it pressed together in its opposition to elections in June, and then it narrowed the gaps in the dispute between the Haredim and Lieberman. Netanyahu became imprisoned in his own government.

This is in fact a transition government—no one comes in and no one goes out. The political crises won't disappear. They will return more intensely after the Knesset's holiday recess, when Netanyahu's legal situation is even worse. On the other hand, there are those around him who argue that as his legal situation worsens, he will be able to ride the waves of the persecution claims and gain more and more public sympathy.

Until the very last moment, no one knew what the prime minister really wanted and to what extent were his personal considerations and legal situation affecting his decision-making concerning elections.

Netanyahu, who stood to gain the most from elections, didn't gain a thing in the end. Moreover, he found out that his partners won't remain loyal to him at all costs. As soon as they began suspecting that he was leading them to elections against their will, they started briefing against him, worked to curb every initiative of his, and mainly blocked—with the opposition's help—the best date for elections as far as the prime minister was concerned.

The way things look now, we'll meet again for elections in March 2019. Until then, all players have a chance to improve their positions and, some of them, to practice ways to withstand pressure.
Need for self-examination in the opposition
"My friends in the opposition, that was scary, eh? I'm glad the color has returned to your cheeks," the prime minister said at the Knesset on Tuesday after the crisis was over.

Regardless of whether he's right or wrong, Avi Gabbay and the Zionist Union members are in need of a self-examination. Even in the party's grim situation in the polls, it can't stutter in a way that is interpreted as panic.

Yesh Atid leader Yair Lapid is in need of a self-examination too. During the crisis, it was hard to detect in him the determination that would be required to challenge Netanyahu. There is no room for politeness and good manners here. This isn't how you win elections—not against Netanyahu.