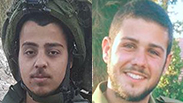 Sergeant Netanel Kahalani, left, and Lieutenant Ziv Daus
Thousands accompanied Lieutenant Ziv Daus, 21, who was murdered in the car-ramming terror attack over the weekend, on his final journey on Sunday as he was laid to rest at the military plot of the Holon cemetery.

"Why do we deserve this? You are etched into our soul," Ziv's father, Ronen, said weeping.

"Shema Yisrael! Why? What did we do?" his grandfather Shalom Daus cried out.

Among the many attendees were Ministers Yoav Galant (Kulanu) and Ofir Akunis (Likud), MK Moti Yogev (Bayit Yehudi) and Daus's friends from the Home Front Command's search and rescue unit.

"A two-legged animal murdered Lieutenant Ziv Daus and Sergeant Netanel Kahalani in the spring of their live. Whoever takes another's life should know his life will be taken in return—it is time to give the death punishment to terrorists," said Minister Akunis.

Ziv's father Ronen lamented the fact he had to say the Jewish prayer of mourning for his son. "I have to say Kaddish for him? He needs to say Kaddish for me. This is against nature," he said.

"God will protect you from above. He took an angel from me. God takes all of the angels and all of the good ones. God preserve us," Ronen continued.

The IDF's representative, the Commander of Kedem Battalion, Lt. Col. Sharon Itach, said the battalion "is a family first and foremost... on this day, we're one big family. You are part of the Kerem Battalion forever."

"You did everything to become a combat soldier. You did it with excellence and went to commanders' course, where you stood out and were ranked among the first in your class," Itach continued. "The soldiers under your command followed you blindly... you were prepared for any mission and set a personal example to your soldiers... your soldiers described your smile as one that charms all."

Yoni Daus, Ziv's uncle, urged "Don't tell me about him in past tense; don't say 'he's gone never to return.' Ziv will be with us forever. His memory will not leave us."

"Your quiet demeanor, your shy smile... you left a great void that would be hard to fill," the uncle continued. "We will continue building, creating, nurturing and loving the country you loved so much and for which you fought."

Yuval, Ziv's cousin, said it was "hard for me to talk about you in past tense. You've always been a true leader, you led and aspired to be an excellent officer. There's a reason you were the first officer in the family."

"Your calm demeanor, your smile and your desire to protect the security of Israel were the unique things about you. My dear cousin, a hero of Israel, watch over us from above," Yuval continued.

After the funeral had ended, Ziv's family members kissed his grave and wept. His mother cried over the fresh grave, asking, "Who is now going to tell me, 'Mom, thank God everything is okay'?"
'You will always be in my heart'
Sergeant Netanel Kahalani, 20, who was also killed in the attack, was laid to rest overnight Saturday.

Netanel's father Danny spoke about his son, "You were kind and you helped people, made sure your brothers were doing good, you were loved and smiled a lot."

"I can't comprehend this yet and I don't know if I could move on. I love you. I already miss you, so what's going to happen in the future? I've loved you very much, and lost you in a second," the father continued.

"Twenty years is nothing, but thank you for them. Watch over us from above, I hope you're in heaven," he concluded.

"My Netanel, my beloved," his mother Naomi eulogized. "My dear child, how am I going to say goodbye to you today? I always knew we would separate, but I never imagined it would be this soon. You were a wonderful child, you loved living, you were full of life. My good boy with the heart of gold, thank you for 20 years of grace, love and friendship. We will never separate, you will always be in my heart. I love you very much, and I wish we would one day meet in eternity."

Kahalani's brother, Yehonatan, also eulogized him. "I love you. You were the best person I have known, better than me. We all loved you. And it's simply cruel of a person to see living people and turn the wheel against them. I've never understood this cruelty, and I never will," he said.

To his brother, Yehonatan added, "wherever you are, I hope you're happy. We only have pictures left, and I'm devastated."

Netanel's older brother David added, "Oh how I miss you, little brother, I love you. Look how many people came to pay their respects to you. You were an incredible person and you will always remain with us. Keep your smile, and watch over us from above."

His brother Avishai called Netanal "my hero, my brother, my angel," adding "You were someone to be admired. The world will be different without your big smile, which charmed everyone. The happiness you gave me was the biggest happiness. I'm glad for the relationship we had recently, you were always there to help me... all of the dreams we wanted to realize will probably not come true anymore."

Col. Sharon Eltit, the commander of the Menashe Territorial Brigade where Kahalani served, said of Netanel, "You came to us driven by motivation to contribute and to serve, you've managed to do so much and get into all of our hearts by helping your friends at any time. We promise to help and give strength to the family."

Minister Ayoob Kara (Likud), who attended the funeral on behalf of the Israeli government, laid a wreath on Kahalani's grave.

Both Daus and Kahalani were promoted in rank posthumously. Two other soldiers who were wounded in the attack remain hospitalized at the Rabin Medical Center in Petah Tikva. One is in serious condition, while another was in moderate condition.

The terrorist, Alaa Kabha, initially insisted the attack was merely an accident, but he later confessed under interrogation to having acted under nationalistic motives.

Kabha's brother remains in custody and the degree of his potential involvement in the attack is still being investigated. Shin Bet added that no other persons involved in the attack or aware of Kabha's intentions were known at present, meaning he was a "lone wolf" terrorist acting without the guidance of a terror group.