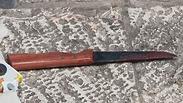 Knife used by terrorist
Photo: Police
Father of four stabbed in Jerusalem terror attack succumbs to wounds
After hours of attempts to stabilize the victim's condition, who was said to be in life-threatening danger after being stabbed multiple times in the Old City by a terrorist, victim, identified as Adiel Kolman—father of 4—dies in hospital; terrorist, 28, from village near Nablus, was a Palestinian who was granted permit to look for work in Israel.
A 32-year-old Israeli who was stabbed in Jerusalem's Old City multiple times in a terror attack succumbed to his wounds Sunday evening.

The victim was evacuated to Shaare Zedek Medical Center in Jerusalem where he was said to be fighting for his life. Doctors battled for hours to stabilize what was described as an "extremely seriously" condition and despite being operated on, the hospital had no choice but to pronounce his death.

Scene of incident/TPS (צילום: TPS)

The victim was identified as Adiel Kolman, a father of four from the settlement of Kokhav HaShahar in the West Bank, who was born in the Keshet community in the Golan Heights.

The 28-year-old terrorist, Abd al-Rahman Bani Fadel, who was later confirmed to be a Palestinian from the village of Aqraba near Nablus, was shot dead by a police officer at the scene on HaGai Street, where he carried out his attack.

IDF forces raiding the terrorist's home (צילום: דובר צה"ל)

Fadel, a father of two, had a temporary permit for a week that allowed him to enter Israel to search for employment. He had already received such permits in the past, as there was no indication of his terrorist intentions.

Speaking about Kolman's condition upon arrival at the hospital, one MDA paramedic said "He was fully conscious and didn't answer any questions when we got to him. He had suffered from serious wounds to his chest and stomach."

Commander of the area, David Shmueli later said that security forces were still trying to figure out how the terrorist managed to carry out the attack. "We are still looking into how he got here and where he entered from. We are assessing all the possibilities in order to understand what happened here after a long period of comparative quiet in Jerusalem," he said.

Shmueli also added that in light of a number of warnings of future attacks, police were preparing for a beefed-up deployment ahead of, and during, the upcoming festival of Passover.

"We are taking everything into account. There are multiple alerts unfortunately and we are obviously augmenting the forces accordingly."

Jerusalem Mayor Nir Barkat issued a statement shortly after the attack, wishing the victim a speedy recovery, and blaming the stabbing on incitement by the Palestinian Authority.

"We all wish and are praying for a speedy recovery by the victim and we thank that policeman who responded with the speed that is required, killing the terrorist and preventing further attacks." Barkat said.

"Israel's enemies are constantly trying to harm soldiers, policemen, security guards and civilians which is due to the serious incitement that they are exposed to by the Palestinian Authority," he continued.

"The only answer to it is a determined and uncompromising struggle against terror and against those who incite to terror and the continued development and building of the united Jerusalem. I ask all residents to continue their regular lives, to be alert and to inform security forces if necessary in order to thwart further attempted terror attacks."

On Friday, a Palestinian terrorist rammed into a patrol of IDF soldiers with his car on route 585 between the settlements of Mevo Dotan and Hermesh, killing two of the soldiers—an officer and a conscript—and moderately-to-seriously wounding two others.

The two soldiers were later identified as Lieutenant Ziv Daus, 21, of Azur, and Sergeant Netanel Kahalani, 20.

The terrorist, Alaa Kabha, 26, was later arrested when IDF forces from the Menashe Territorial Brigade carried out extensive operations overnight Friday in the village where he lived.

HaGai Street has witnessed terror attacks in the past. In October 2015, at the beginning of what became known as the wave of terror, Rabbi Nehemia Lavi and Aaron Bennett were killed in an attack.

A week later, a 36-year-old Israeli was also murdered after a female 18-year-old Palestinian attacked him with a knife. A month later, an Israel border policeman was wounded by a Palestinian assailant, who was shot dead.

Yishai Porat, Elior Levy and Hassan Shaalan and Reuters contributed to this report.