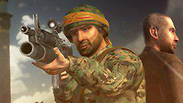 New video game lets you join Hezbollah, fight ISIS
Hezbollah releases new video game for the PC and mobile, which allows players to join in its battle against the Islamic State; Hezbollah says it is 'not just a mere game, but a simulation aimed at documenting a stage of the holy defense confronting the American-Zionist project.'
Hezbollah has recently distributed a video game allowing players to join its ranks and battle Islamic State militants.

The "Holy Defense" game, marketed to children and teenagers, tasks the player with the protection of holy sites, cleansing territories of ISIS presence in order to prevent rocket fire, and the assassination of senior officials responsible for the mobilization of suicide bombers.

The climax of the game comes in a "battle for the homeland" in the city of Baalbek in Lebanon.

The Shiite terror organization also created a dedicated website with an archive of previous games directed against IDF soldiers.

According to an article published recently by the organization, the aim of the game is "to instill in the hearts of young Lebanese Shiites a collective awareness of their identity, culture and history as Muslims."

"The Holy Defense game is not just a mere game, but a simulation aimed at documenting a stage of the holy defense facing the takfiri (a Muslim who accuses another Muslim of apostasy) tide and confronting the American-Zionist project, chronicling the sacrifices made in this way," according to the description of the game on its official website.

"It is a tool to confront the savage culture that invades our markets through games that are stripped of feeling and belonging. It is a tribute to the souls of the martyrs and their families as well as the sacrifices of the wounded and their families," the description adds.

As part of efforts to promote the sale of the game, Hezbollah launched an extensive marketing campaign on YouTube, Twitter and Facebook. The game is available on PC and mobile for only $5.

The International Institute for Counter-Terrorism (ICT) at the Interdisciplinary Center Herzliya, headed by Prof. Boaz Ganor, analyzed the game and the messages relayed through it.

Dr. Michael Barak, a researcher at ICT, explained that Hezbollah is using the computer game to warn the younger generation of the dangers and threats facing them. This is in addition, he said, to strengthening their identification with the organization's goals and strengthening their recognition of the organization as leaders in the struggle for the protection of the Shiites and their holy sites.

This is not the first time a terrorist organization has used computer games to promote its murderous ideology among children and adolescents. The new Hezbollah game was preceded by other games, which were also distributed by Hamas and the Islamic State.

Hezbollah's previous games portrayed battles against the IDF that took place during the 2000 withdrawal from Lebanon and during the 2006 Second Lebanon War.