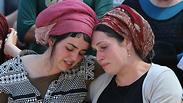 Terror victim's funeral
Photo: Amit Shabi
Adiel Kolman, who was murdered in a stabbing terror attack in Jerusalem on Sunday, was laid to rest Monday at the Kokhav HaShahar cemetery.
"You were called 'the jewel'—you were our jewel," Kolman's mother said. "You finished your mission in this world and God, may His name be blessed, took you too quickly, too painfully."
"Everyone knows you were a simple man, good, direct, who laughs and embraces. You won life with your rolling laughter. You were the best father there is," Kolman's sister said. "I will remember you as Adi, not as a news item."
"We made a sacrifice yesterday on the altar of the holy city—our Adiel," said Kokhav HaShahar's rabbi Ehud Krakower. "A modest, God-fearing man with a heart of gold. Everyone who knew him could not help but love him."
Minister Uri Ariel (Bayit Yehudi) spoke at the funeral, saying "Our revenge is the settlements, and I hope we are successful in promoting the construction in Jerusalem and Judea and Samaria. We have to say this in the clearest manner: Between the Jordan and the sea there will be only one sovereign country—the State of Israel. No one else has a right for this country."
Jerusalem Mayor Nir Barkat also eulogized Kolman, saying the capital "is bowing its head today. In two weeks, we will read the Haggadah and then, like today, they tried to destroy us, and unfortunately at times they hurt us. Yesterday they managed to hurt Adiel. The sorrow is deep and difficult, but they will never be able to divert us from our path."
"The security forces are telling us about a wave of violence making its way to us. We in Jerusalem are determined to continue on our daily routine and continued to build and be built. We're all going to continue sticking to life and building Jerusalem and the entire land of Israel," Barakat continued.
Israel's Chief Rabbi David Lau also spoke at the funeral, saying, "I am trying to think about a guy who is about to return home from work and prepare with his children and wife for Passover. The Haggadah speaks of four sons. Now there are four children left, and who will answer them when they ask 'Why is tonight different from all other nights?' Where is the kind, caring and loving father?"

The US Ambassador to Israel, David Friedman, tweeted about Kolman's murder, as well as about the murder of two IDF soldiers in a car-ramming attack on Friday.
"Tragedy in Israel. 2 young soldiers, Netanel Kahalani and Ziv Daos, murdered in the North, and father of 4, Adiel Kolman, murdered in Jerusalem, by Palestinian terrorists. Such brutality and no condemnation from the PA! I pray for the families and the wounded – so much sadness," he wrote.
'I hope he watches over us'
"He wasn't concerned, I was the one the one who was afraid," his widow Ayelet told Ynet ahead of the funeral. "I told him many times that perhaps working there was dangerous, and he would respond that he wasn't afraid because there were a lot of IDF troops there."

Ayelet said she broke the terrible news of their father's death to their four children on Monday morning. "Adiel would say every day that we were privileged to have them. I hope he watches over us from above and prays for us."

She said the last time she spoke to her husband was on Sunday, around 4pm. "He was supposed to get home at around 5:30pm to watch over the children, so I could go out with the girls and buy them dresses for the holiday. I noticed he was running late and I tried to call him, but he didn't answer. I didn't have something like this going through my mind," she recounted.

Ayelet criticized Israeli policy-makers, saying "We want to live here in our country with the sense of security, without fear. We deserve this. The situation we've fallen into is not normal."