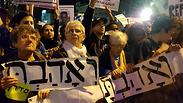 A rally against the expulsion of asylum seekers
Photo: Eli Mandelbaum
'Ye know the heart of a foreigner': Orthodox rabbis speak against expulsion
A Jewish state is not judged solely by the number of Jews residing therein, rabbis say, but by degree of compassion, humanity and morality it shows to foreigners; 'Our first collective memory as a people is an experience of slavery, degradation, discrimination. The Torah thus reminds us that when we come into power, we should know how to treat foreigners as equals,' says Rabbi Yehuda Gilad.
Many voices were raised in the past few months to speak out against the impending expulsion of African asylum seekers, running the gamut from El Al pilots to Holocaust survivors, but a more recent, unexpected voice was an Orthodox one, calling on Israel to treat migrants with morality and humanity.

"We are now just before Passover and are about to celebrate the story of the exodus from Egypt," said Rabbi Yehuda Gilad, a former Knesset member and current head of the Ma'ale Gilboa yeshiva and member of the board of Beit Hillel and of the council of Tzohar rabbis.

"One of the fundamental principles of the exodus, which the Torah reiterates time and again, is the matter of 'And you are to love those who are foreigners, for you yourselves were foreigners in Egypt,' (from Deuteronomy 10: 19)" Rabbi Gilad said. "Our first collective memory as a people is an experience of slavery, degradation, discrimination. The Torah thus reminds us that when we come into power, we should know how to treat foreigners as equals."




Rabbi Gilad believes the Torah teaches us that asylum seekers should be shown justice and equality, but qualifies by saying his position on expulsion is not black and white, but more nuanced.

"There are a lot of distorted slogans going around, both on the Right and the Left," he explains. "I think the perception that sees we should receive them all is incorrect, as is the stance of deporting them all.

"A balance should be struck between the values. Receiving the entire group of asylum seekers is problematic—while Israel will not collapse by receiving 40,000 people, we all know 40,000 are just the beginning, due to family unifications and people wanting to marry.

"On the other hand, expelling them all is certainly immoral. I think the State of Israel is obliged to distinguish between asylum seekers and work migrants, both because it is Jewish and because it is a signatory to the refugee treaty."

Rabbi Yair Silverman, founder of the Moed NGO that promotes modern Jewish values, addd: "There are 17 mitzvahs related to the land of Israel and more than seventy mitzvahs reminding us were once slaves in Egypt. I believe that in the current age, we should treat a tolerant path and recognize the importance of a worthy, respectful society.

"That, of course, does not mean opening the gates and allowing more refugees to enter a country of eight and a half million residents—that doesn't make sense. But it also doesn't make sense to say we don't have a moral, ethical and spiritual responsibility calling out to us from both scriptures and history."

Asked about the biblical stance on refugees, Rabbi Gilad replies: "To speak about biblical laws in the 21st century is a little anachronistic. But comparing the slave in the Torah to (his status) in the same time period, it's patently obvious how progressive the Torah was.

"Up until 200 years ago there were slaves the world over, but the Torah laid down a law regarding them 3,500 years ago, saying that slaves must not be handed over back to their masters and to, 'Let them live among you wherever they like and in whatever town they choose. Do not oppress them.'

"That is to say, a slave who escaped his master must have been in a bad situation, and we should therefore receive and rehabilitate him. It's a revolutionary stance morally both in the time of the Torah and today—200 years ago a person sheltering a slave in the southern United States would have faced charges."

Rabbi Gilad further elaborates that "the Torah places highly advanced moral values for the time period and we should therefore continue implementing them in our own norms, to serve as examples to the world through our conduct.

"Indeed, many times we are the first to arrive and open up a field hospital when disaster strikes somewhere, which I think is due to our Jewish morality and I'm proud of that. Unfortunately, in other areas—like refugees—we are quite far from our aspiration of being the chosen people, a light unto the nations."

Rabbi Silverman adds, "After the destruction of the Temple, the prophet Jeremiah said, 'How deserted lies the city, once so full of people! How like a widow is she, who once was great among the nations!' Jeremiah is asking where all the Egyptians and Assyrians are, as well as all other neighbors who were part of Israeli society's tapestry. After the ruin, they all escaped and left us to fend for ourselves. Jeremiah aspired to a reality that will include not only Jews, but a heterogeneous populace."

Asked how religious and Haredi society treats migrant expulsion, Rabbi Silverman says: "The religious-Zionist public, which is a little more involved, considers refugees a demographic and strategic threat. I don't think that's true.

"I think what we have here are people interested in being loyal to the State of Israel and to show their gratitude to it. This, then, is our opportunity to show the world our ability to handle a problem that isn't only Israeli, but also European, Canadian and American.

"No country wants to welcome in endless waves of refugees and lost its national identity in the process. A national identity, however, does not mean that anyone living in the country looks exactly the same. God made the world, and we should therefore love those different from us."

Rabbi Gilad offers his take on the matter, saying: "Religious society is quite apathetic to the issue, unfortunately. There's a sense that ours is a Jewish country and that charity begins at home and we have enough problems of our own. While that's true, it shouldn't come at the expense of asylum seekers.

"South Tel Aviv residents should not pay the price for it either, of course. When it comes down to it, a Jewish state is not judged only by the number of Jews it houses, but also on the question of how loyal it is to the Jewish moral compass and values—and one of the most basic Jewish values is compassion and cohabitation with the proselyte, the orphan, the widow and the foreigner."

This article was prepared in collaboration with Israel at Heart.