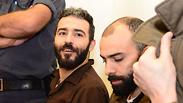 Romain Franck
Photo: Herzl Yosef
Expert: Arms smuggling affair may sour Israeli-French relations
Affair will force France to keep a low profile, weaken Minster of Foreign Affairs Jean-Yves Le Drian, French historian says, adding it will provide Israel with means to exert pressures on French consulate; while weapons were meant for West Bank arms dealers, armaments presumed to have also reached local terror groups; 'We're fighting terror that has claimed 250 lives in France but trafficking 70 weapons with a French diplomatic passport?' French MP exclaims.
The recent arms smuggling affair involving a French national, a French expert surmised, may harm France's standing with Israel. "This is a serious matter, since Israel is doing everything to prevent Palestinians from obtaining weapons," Vincent Lemire, a history professor, told the Europe 1 website.

Romain Franck, a French national, and five others were indicted Monday afternoon for smuggling weapons from Hamas in the Gaza Strip to the West Bank.

Franck, 24, a driver in the French Consulate in east Jerusalem, used his diplomatic vehicle to avoid security checks at the Erez border crossing.

"We're talking about 70 weapons, a considerable amount, and what's especially worrying is the possibility that one of them was used—or will be used—to kill an Israeli cop, for instance," he said.

"The affair will force France to keep a low profile and will weaken Minster of Foreign Affairs Jean-Yves Le Drian," the historian added. "It will also provide Israel with means to exert pressures over the French consulate, such as denying permits or diplomatic license plates."
Weapons assumed to have also reached terrorists
The dozens of weapons smuggled by Franck reached Palestinian arms dealers in the West Bank, rather than falling directly into the hands of terror groups, so the defense establishment considers him to have acted out of greed—for a bounty of many thousands of shekels—rather than anti-Israel ideological motivations.

However, the rifles and guns he helped smuggle into the West Bank—which have not yet been retrieved—are presumed to have reached not only criminal elements but also terror groups.

Shin Bet also noted the affair was another facet in the increase of attempts by the Gaza groups—Hamas chiefly among them—to smuggle armaments and instructions on carrying out attacks from Gaza to the West Bank using people passing through the Erez crossing lawfully.

First it was women with cancer leaving for treatment in Israel, with explosives found in packages containing their supposed medications, and later others with armaments found in their shoes.

In some cases, the Gazans smuggling contraband into Israel did so knowingly, and in other cases they were unwitting mules. In Franck's case, however, Shin Bet stressed he admitted to his actions.

In its first comment on the matter, the French Embassy in Israel said that, "The minister of foreign affairs has demanded to open an immediate administrative inquiry by the Foreign Affairs Ministry's inspector general. The inquiry will include all information pertaining to the affair we possess.

"Its conclusions will also allow the Consulate General's employees to continue their important work in the best possible conditions under these harsh circumstances."

The French Embassy also said it was treating the incident with "great importance."

Franck was charged with import, trade, carrying, transporting and possession of weapons, as well as with fraudulently obtaining benefits under aggravated circumstances.

In one case, Franck received $700 for smuggling five or six guns. In another, he received NIS 5,000, and in a third instance he received some NIS 10,500 to smuggle 17 guns and a rifle. In total, Franck and the arms smuggling network are suspected to have smuggled some 70 handguns and two rifles out of Gaza.

Franck used a Toyota car with diplomatic plates to drive consulate staff from Israel to the Gaza Strip and back through the Erez border crossing. He also had a Citroën vehicle with diplomatic plates, which he used for his own personal needs, driving from Jerusalem to Ramallah through the Qalandiya checkpoint.

Vehicles with diplomatic license plates are subject to less stringent security checks at crossings, something Franck allegedly took advantage of.

According to the indictment, Franck and Zouhier, an employee at the French Cultural Center in Gaza, knew each other through Franck's work and his frequent trips to the strip. At Zouhier's request, Franck would transport different valuables from Gaza into Israel in return for payment, while taking advantage of the free passage afforded to his diplomatic vehicle at the Erez border crossing.

In November 2017, Zouhier offered Franck to join a network with another Gaza resident, Muhammad Jamal al-Khaldi, that would smuggle weapons from the Gaza Strip through the Erez crossing into Israel and then to others in the West Bank. Zouhier told Franck he would be financially compensated for his "services," and the latter agreed.

Later, other defendants joined this network, including Mufak al Ajluni from the West Bank; Ahmad Majdi Arabid, a Gaza residents who was living in the West Bank; Mohammed Katot, another Gaza resident living in the West Bank; and Anwar Anati Wanazam Muhlwes, a resident of east Jerusalem.

Franck then offered Muhammad Siyad, a consulate employee and resident of Israel, to join the arms smuggling network and aid him by accompanying him to some of his trips to the West Bank with the weapons, and Siyad agreed.
Suitcases with weapons
The indictments detail five instances in which the defendants smuggled weapons from the Gaza Strip to the West Bank for different sums of money.

Franck would then put the package in his bag, place it in the trunk of the Toyota diplomatic vehicle and drive with it to the Erez crossing. At the crossing, he falsely declared that all of the bags in the vehicle belonged to him and to the passenger traveling with him, and that he was not carrying any weapons. This allowed him to avoid a physical inspection of his car.

After bringing the package with the weapons into Israel, Franck traveled to the West Bank with the Citroën vehicle, where he delivered the package to one of the defendants. It was later passed on to the other defendants, who sold the guns.

The prosecution has asked the court to order the detainment of the six defendants until the end of the legal proceedings against them.

An Israeli political source said that this was a "very serious incident that we are treating with the utmost gravity," noting that the affair will nevertheless not sour relations with France, and thanking French authorities for the cooperation.
Jewish French MP outraged
French parliamentarian Meir Haviv expressed outrage in a Ynet studio interview Tuesday at the arms smuggling incident. "We're fighting terror that has claimed 250 lives in France but trafficking 70 weapons with a French diplomatic passport? All lines have been crossed," he accused.
"I wrote the foreign affairs minister yesterday and spoke to the consulate for thirty minutes," he added. "Unfortunately, the Jerusalem consulate has become akin to the Palestinian embassy with people inside it abetting terrorism. The consul, of course, distanced himself from the matter and said he harshly denounced what happened, but I can see the facts."
Haviv said this was not the first incident to serve as a black mark on the French consulate in the capital: "A third consulate attaché slapped an IDF soldiers in front of cameras in the past, 150 kg of gold and two million dollars were found in a car belonging to a consulate employee in 2013 and the French school in Jerusalem is the only place where a minute's silence was not observed for Holocaust victims—under the orders of the Consulate General. He apologized and said it would never happen again, but what do we see today?"
"What might have happened had the Shin Bet failed to operate as it did?" Haviv wondered. "France can agree or disagree with Israel on any number of issues, and of course I would expect it to recognize Jerusalem as Israel's capital, but this is something else entirely—trafficking arms to be used to murder innocents, children, civilians, possibly even French civilians, from Gaza to West Bank terror groups."
"As a parliament member, I denounce this, as does France," Haviv concluded, clarifying, "We shall do our part to see the young man punished, but things need to change. I asked the consul how we selected our people. Is there no security screening or selection? This time it isn't gold or diamonds, but weapons and terrorism."